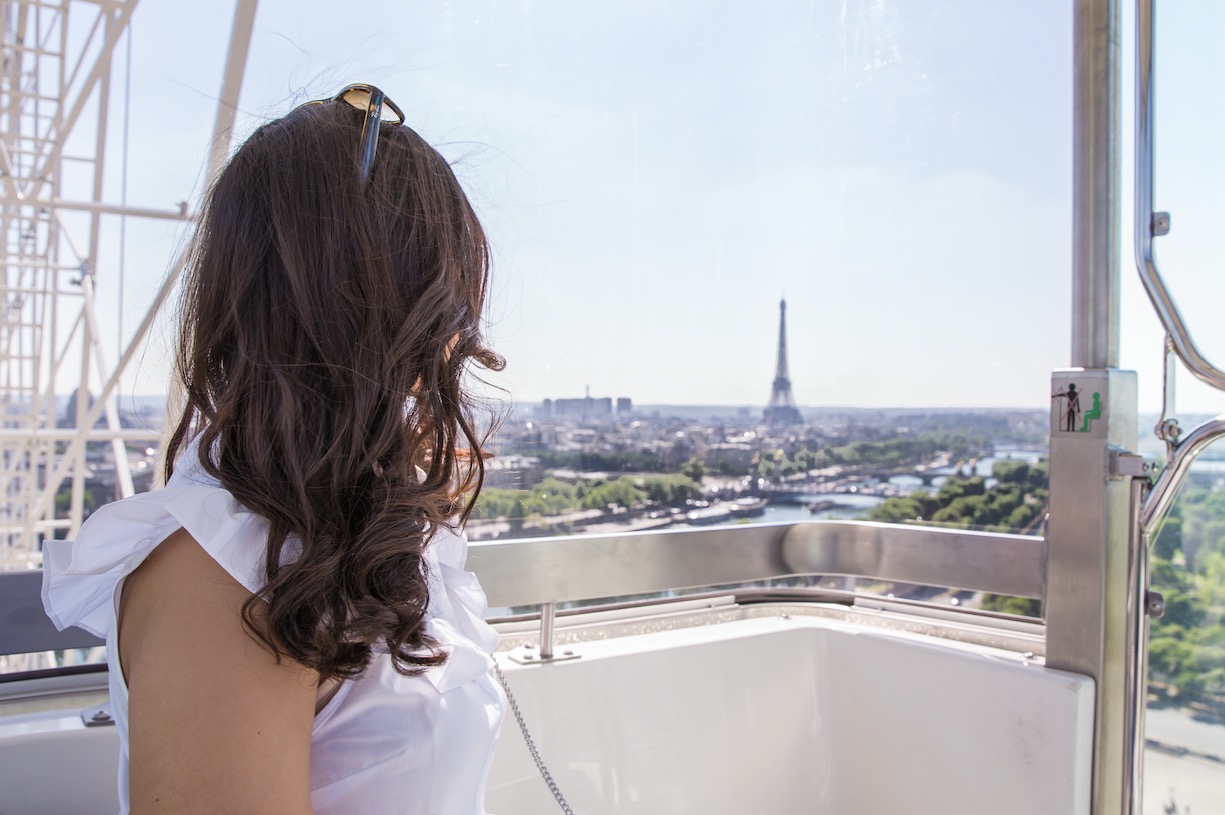 Go
Eurostar often send me offer emails with deals to Paris for £29 each way so my cousin and I took advantage of some free time in our schedules and headed over for two nights last week.
I booked to stay at the Mercure Paris Montmartre Sacré Coeur on booking.com because it had a massive % off pretty last minute. What I didn't realise was that the Sacré Coeur was a 15 minute walk up hill, as is everything else pretty I saw in the pictures!
The location is a little removed from the main attractions in Paris and but it's super close to the Moulin Rouge so I assumed this would mean great nightlife! The Pigalle is literally full of strip clubs and peep shows and many of the bars/clubs in the area have quite an unsavoury reputation. We were told to exercise caution when walking around the area due to pickpockets so didn't really hang around the area for long! We actually got back pretty late in the evenings and on a morning scooted straight off to explore elsewhere.
The irony of it all is that we actually ran out of time and didn't even get to head up the hill to the Sacré Coeur anyway!! Typical.
There was a metro station super close and I'm quite train savvy. I like to mark out points on the map I want to see and then just whizz around on the train, its always quicker than grabbing a cab. I downloaded a Paris metro app to my phone with an offline route planner and googled the best tickets to buy when we were on the Eurostar.
We got 2 books of 10 single ride tickets for €14.50 each and that was plenty for 3 days.
I did use Uber on 3 occasions, mainly out of sheer laziness or because it was just simpler. Obviously the cost depends on whether you have an EU data roaming plan on your phone and if you're up for using Uberpool!
See
We walked from our hotel to the Louvre upon arrival but we couldn't get near the square as it was filling up for election victory speeches.
So instead we walked through Jardin des Tuileries to Place de la Concorde where there is a giant ferris wheel, stopping at Angelina on Rue de Rivoli along the way for a famous hot chocolate.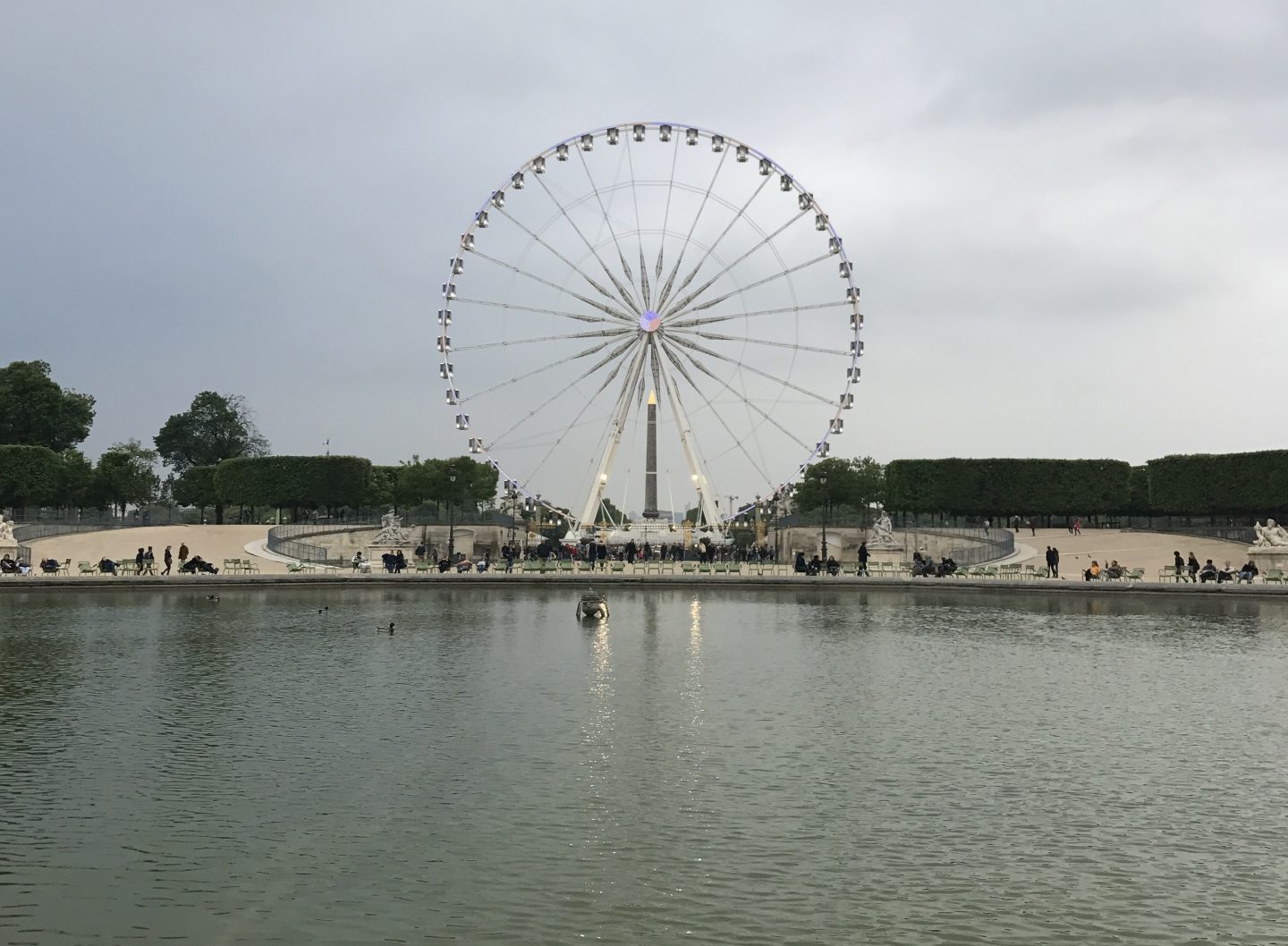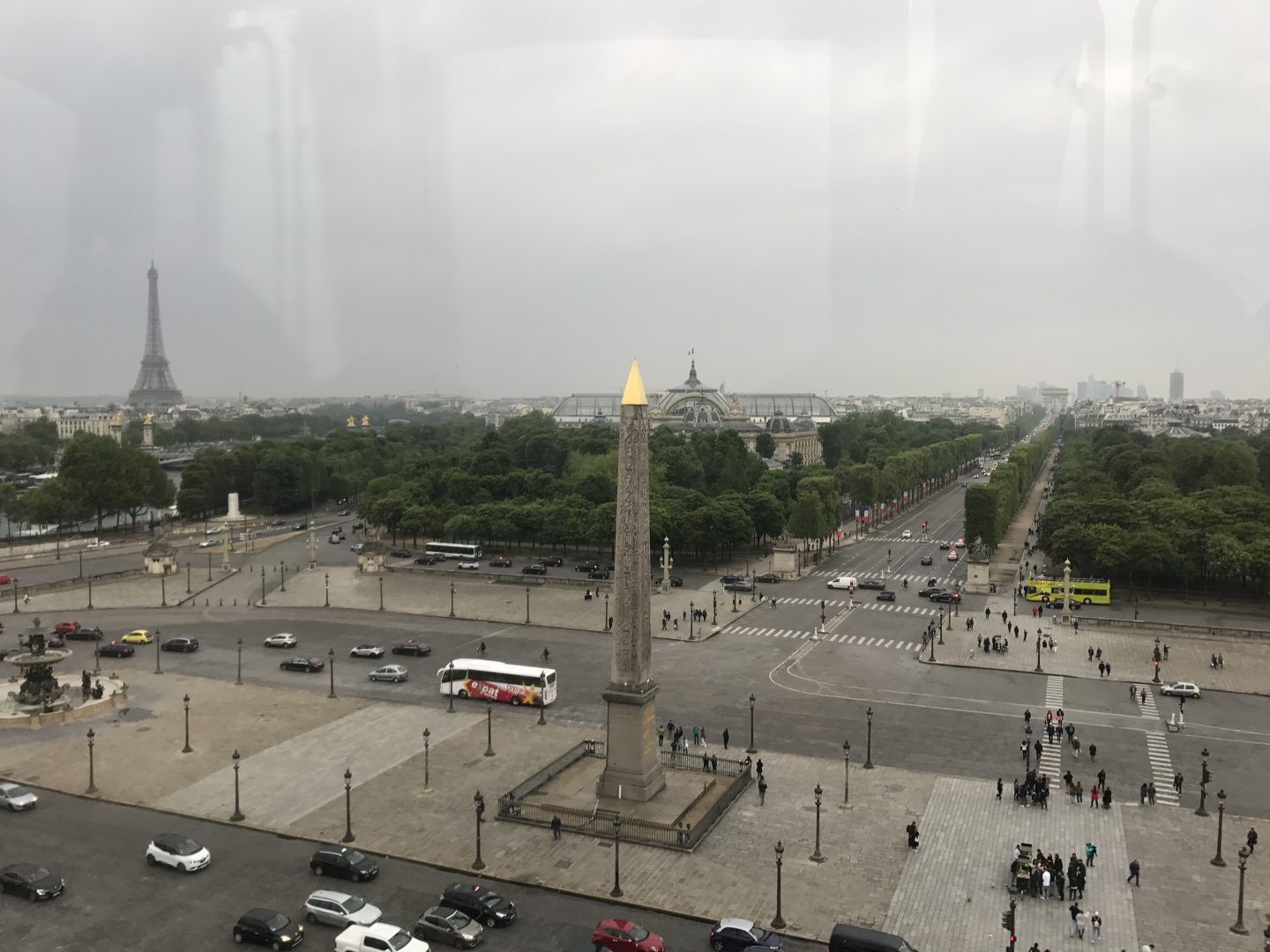 The view from the big wheel is amazing you can see all of the famous Parisian landmarks, it was just a shame it was cloudy (so we went back on before we left again but in the sunshine!) Its €12 for an adult and definitely worth it.
We actually bought tickets to go inside the Louvre Tuesday as we'd assumed it was closed election weekend. But turns out it's closed every Tuesday too – so it wasn't meant to be!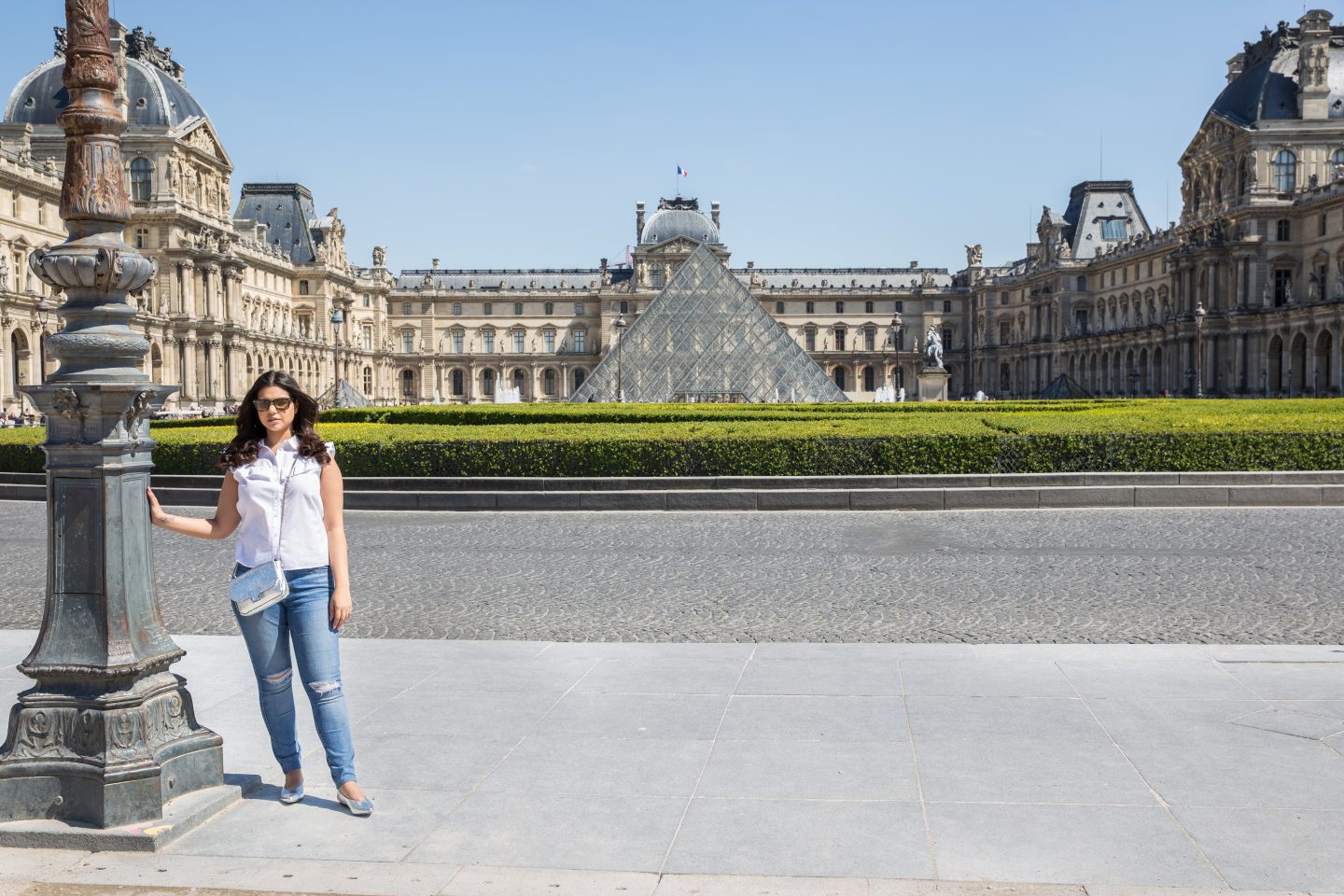 To see the Eiffel Tower we got the metro to the 'Champ de Mars' – the park south of the tower and walked up towards the Trocadéro. We wanted to get some nice pictures with the least amount of tourists in! It was lovely walking up through the park, people were playing on the grass and there weren't many souvenir sellers until you got right up close. We took some beautiful pictures and got some mini Eiffel Tower figures for our Nan before we hit the real shops.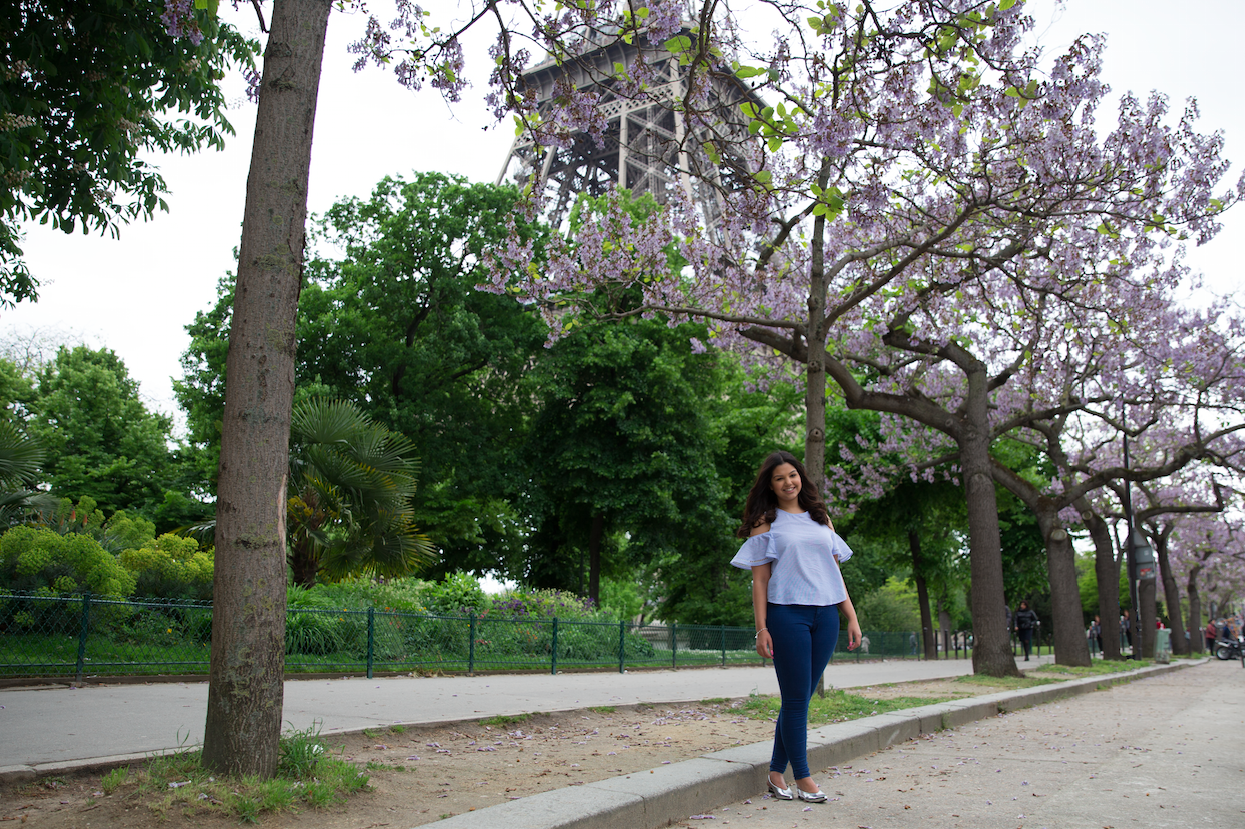 We also headed back to the Eiffel Tower after dinner on our second night. This time to the Jardins du Trocadéro to see it light up for five minutes at 10pm. We took a few boomerangs before heading in for an early night.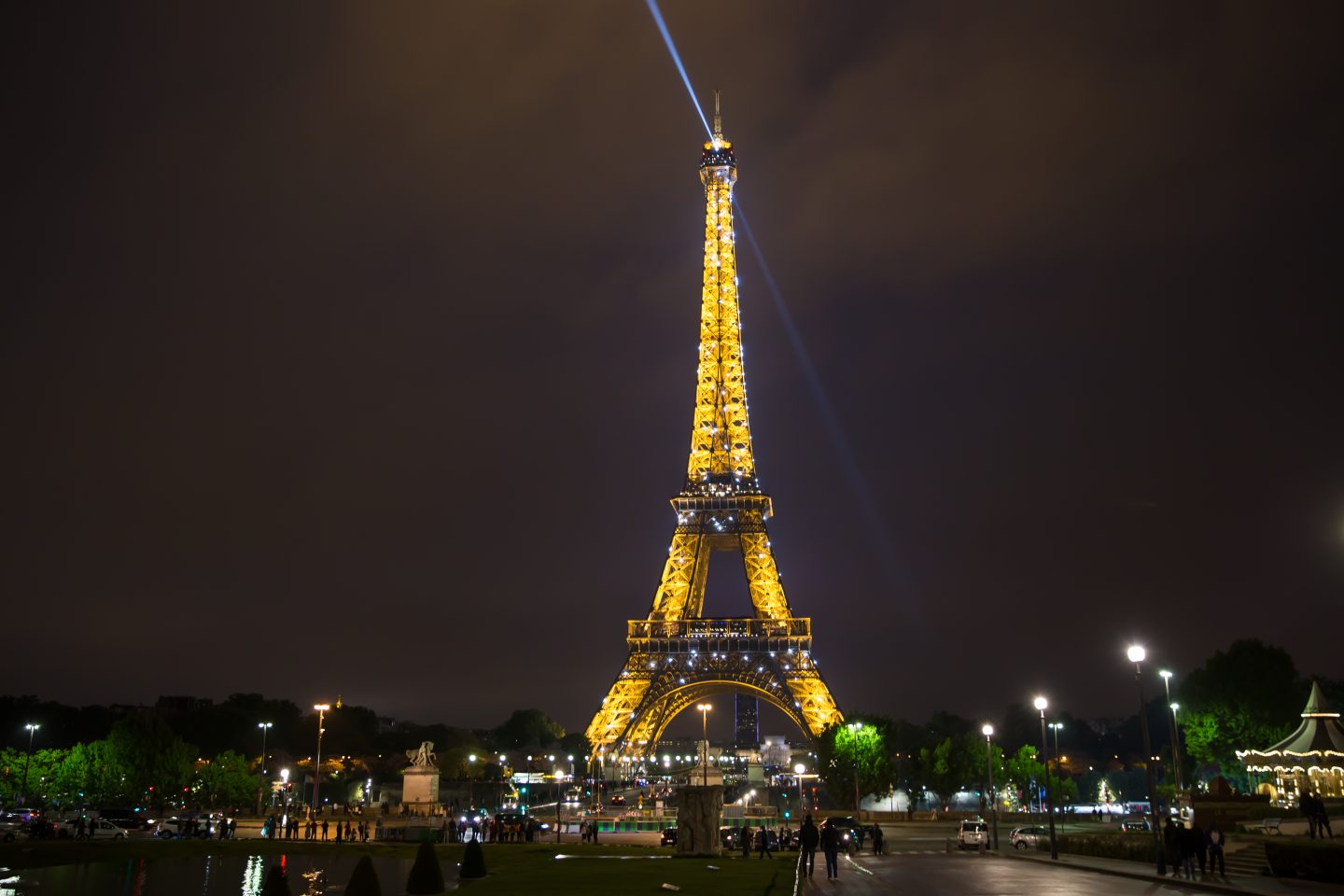 The Arc de Triomphe is mid way down the Champs-Élysées, which looked beautiful all lined with French flags for election weekend. I've been up it before so this trip we just stopped by to take a few photos. The view is amazing as its in the middle of a roundabout with 12 exits!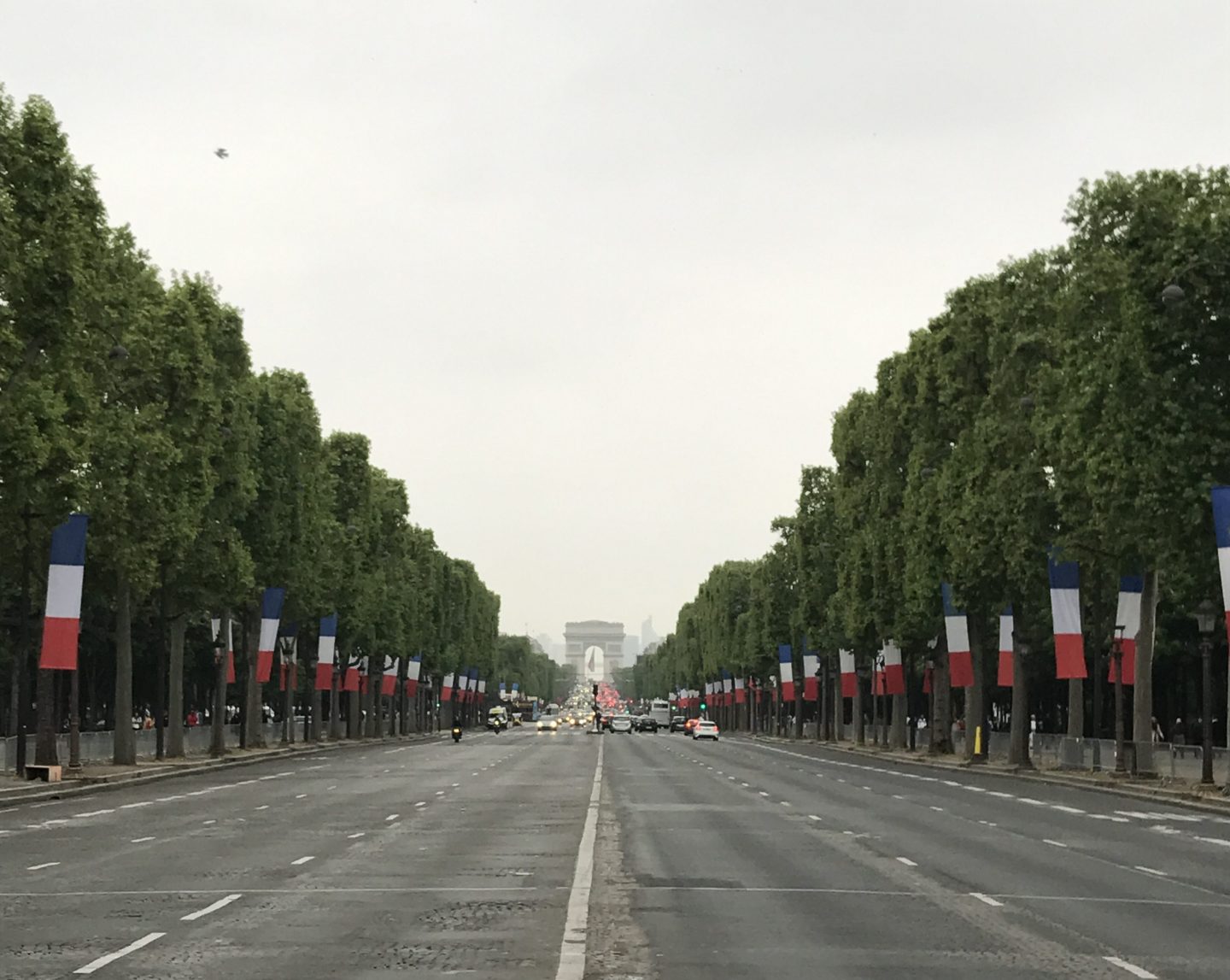 The Sacré Coeur is a white domed Catholic Church up on the hill overlooking the city. It's actually the highest point in the city we could see it from the Big Wheel. It's a shame we ran out of time to go and check out the view from the church itself – but it's on the list for next time.
The Notre Dame is another famous Catholic Cathedral in Paris. The building is dark and gothic looking, we passed it in a taxi but I'd love to have jumped out to get some pictures.
Eat
Paris is famous for it's cafes and bistros. We tried to go from recommendations as much as we could. We used Trip Advisor and Foursquare a couple of times too.
I actually searched foursquare for somewhere casual to eat dinner close to our hotel and #1 was 'Le Bistrot de Dames'. A small neighbourhood bistro on a quiet street, a stone's throw from the bustling Montmartre. It was busy, intimate and authentic and the service and food were great.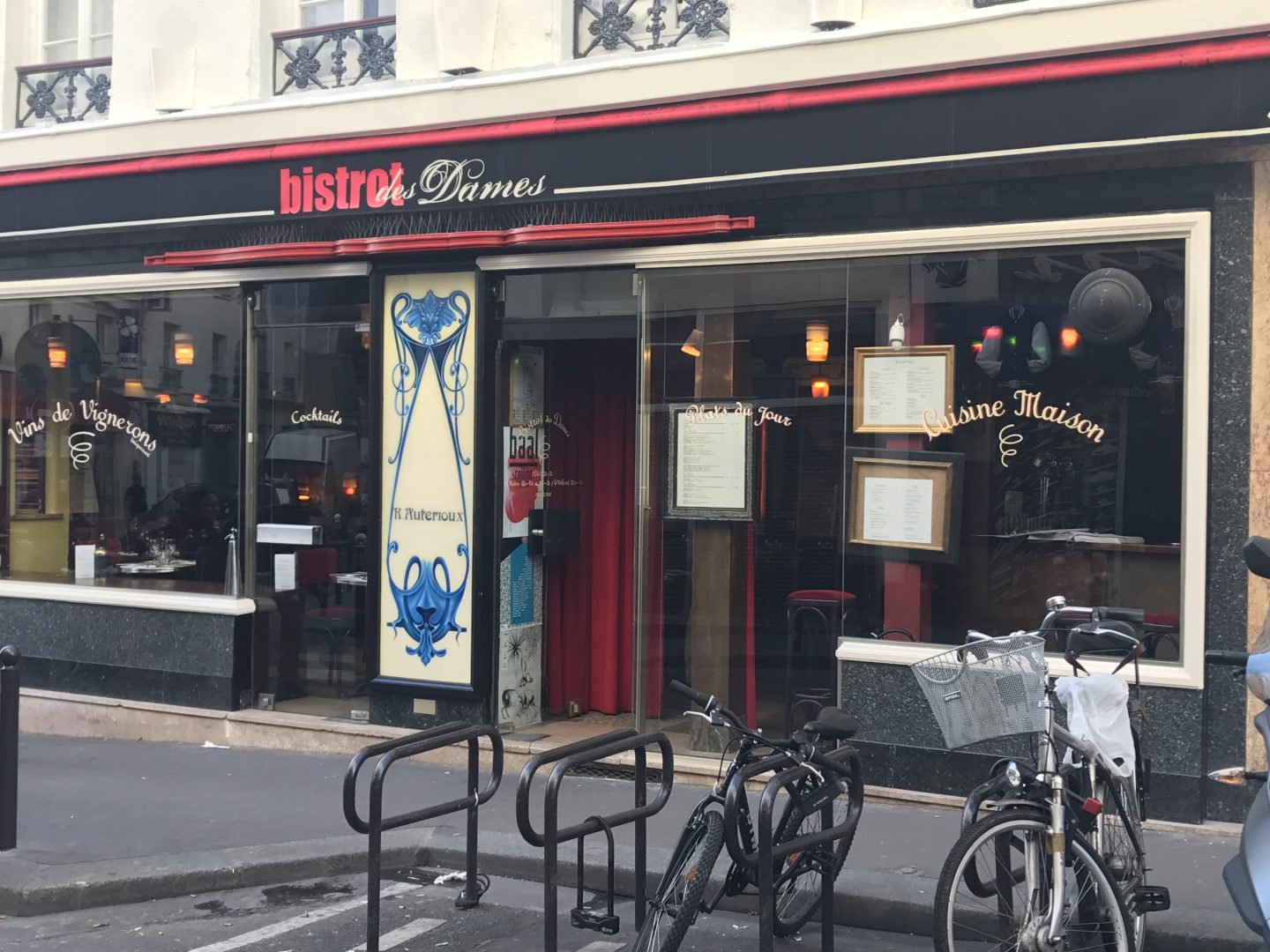 Outside was a gorgeous courtyard that's known to be popular amongst local residents, it was such a shame it wasn't warm enough for us to sit outside Sunday evening.
Carette is a gorgeous patisserie that we stopped by for macarons whilst we waited for Eiffel Tower lights. There are three locations in the city, we went to the one on the Trocadero roundabout. Plenty of luxury cafes and tea rooms like Laudree are dotted all over the city but more than one person recommended the macarons at Carette and they were absolutely delicious.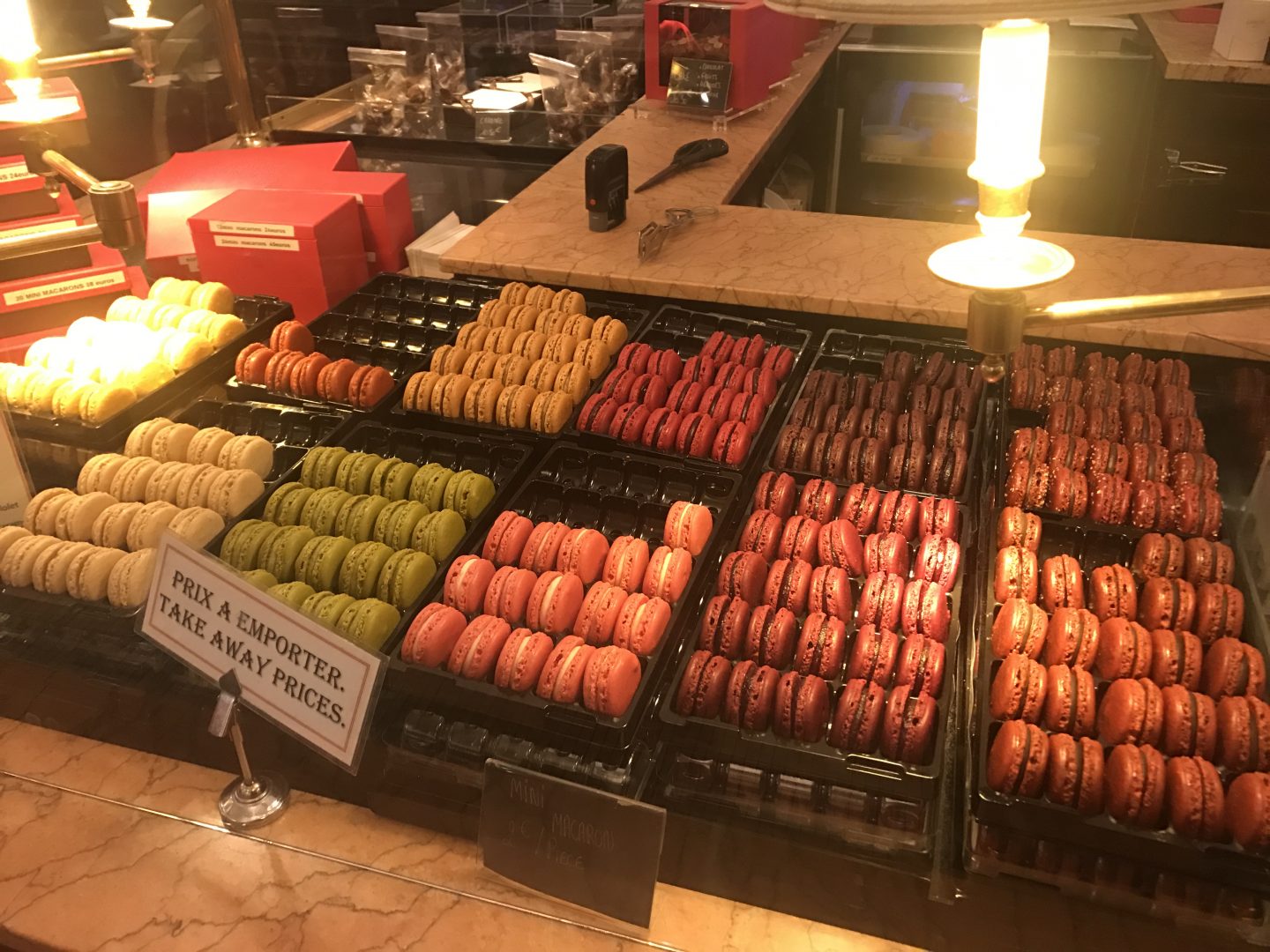 Angelina is another tea room that was highly recommended for cake and hot chocolate – the best in the city they said. Well wow. My cousin Rebecca actually said she wish she'd filmed my reaction to the first sip of hot chocolate I took because it was unbeliavable. I don't have a particularly sweet tooth but would probably go back to Paris just to re live that moment of taking the first sip!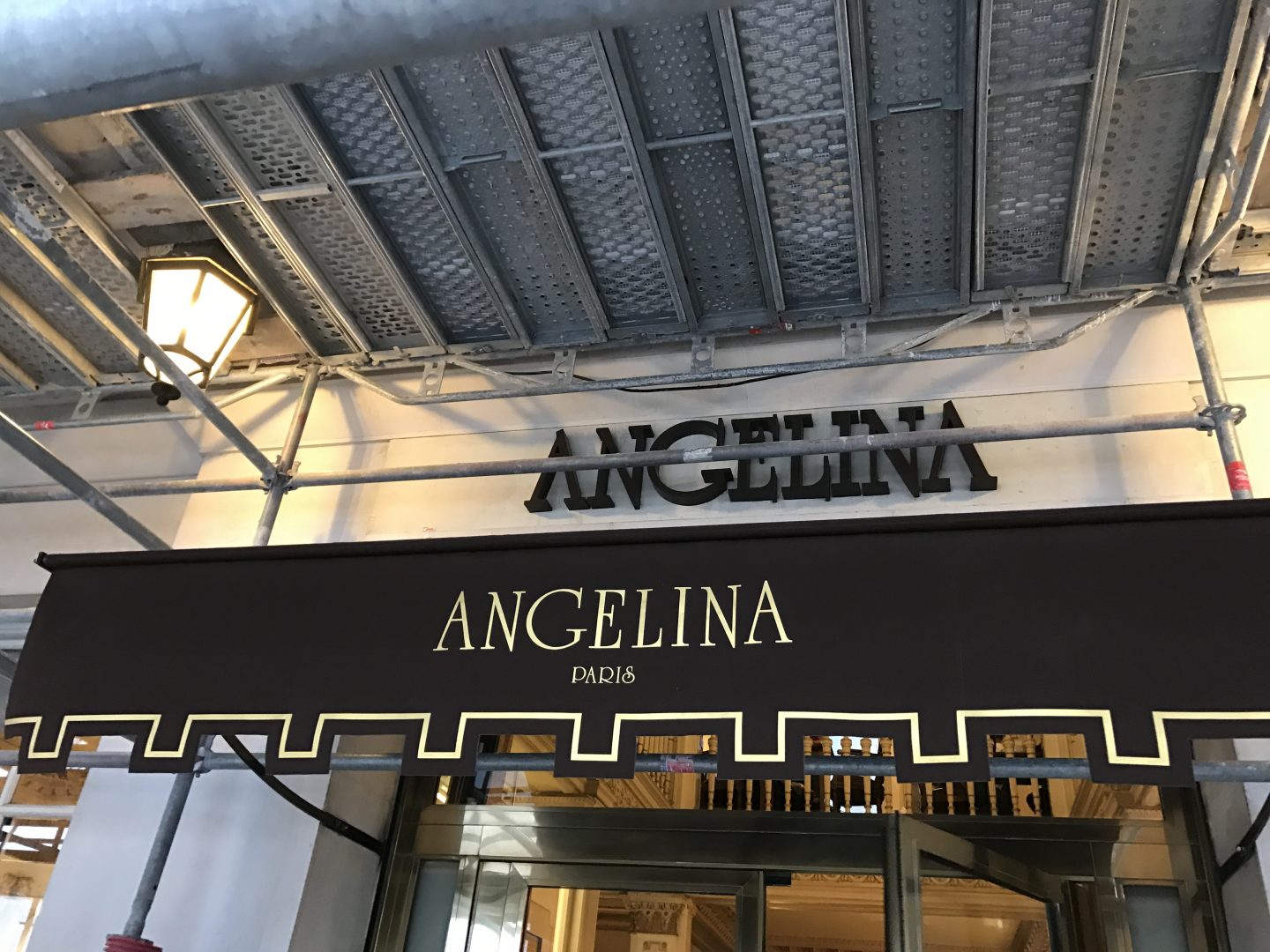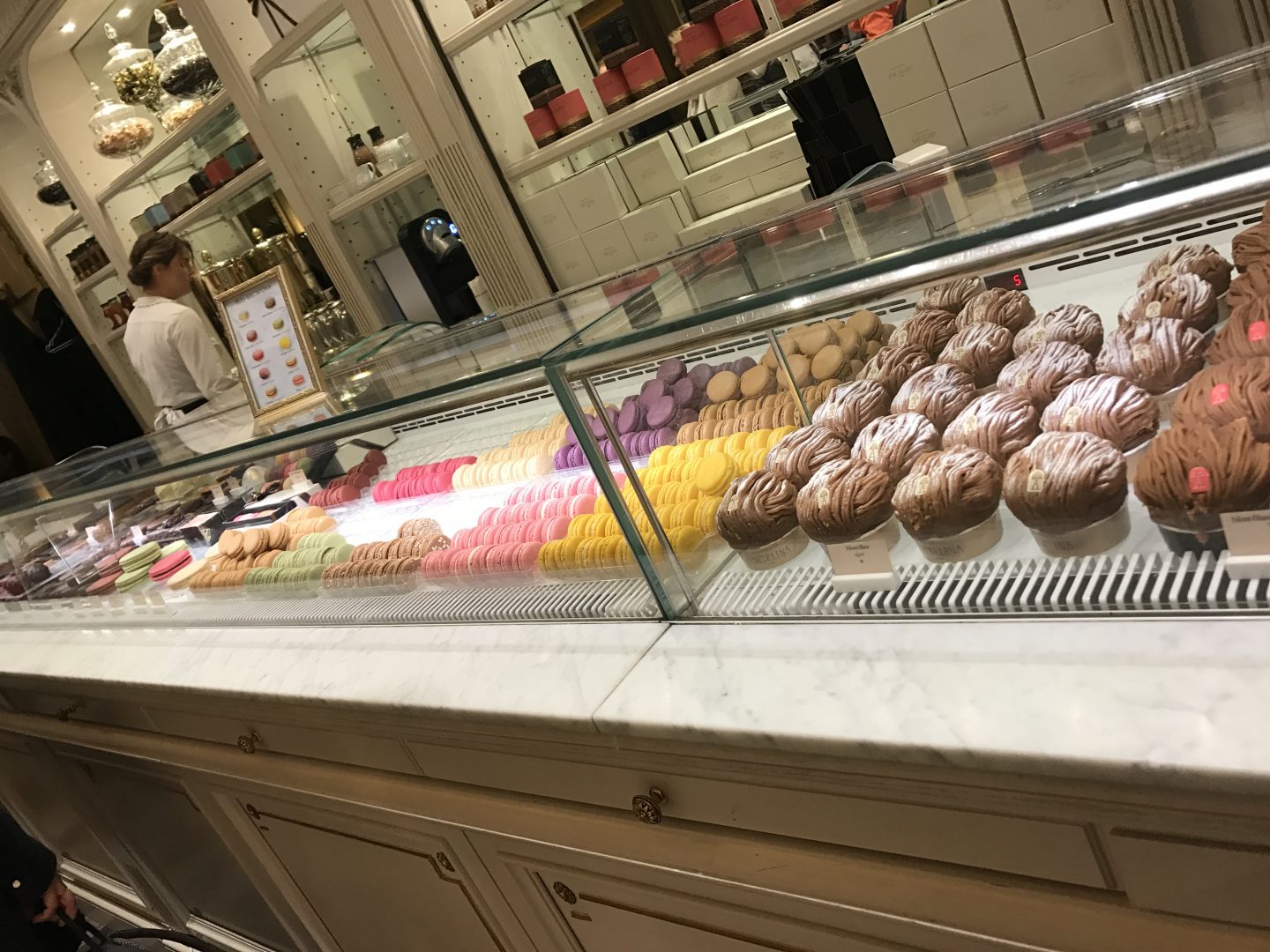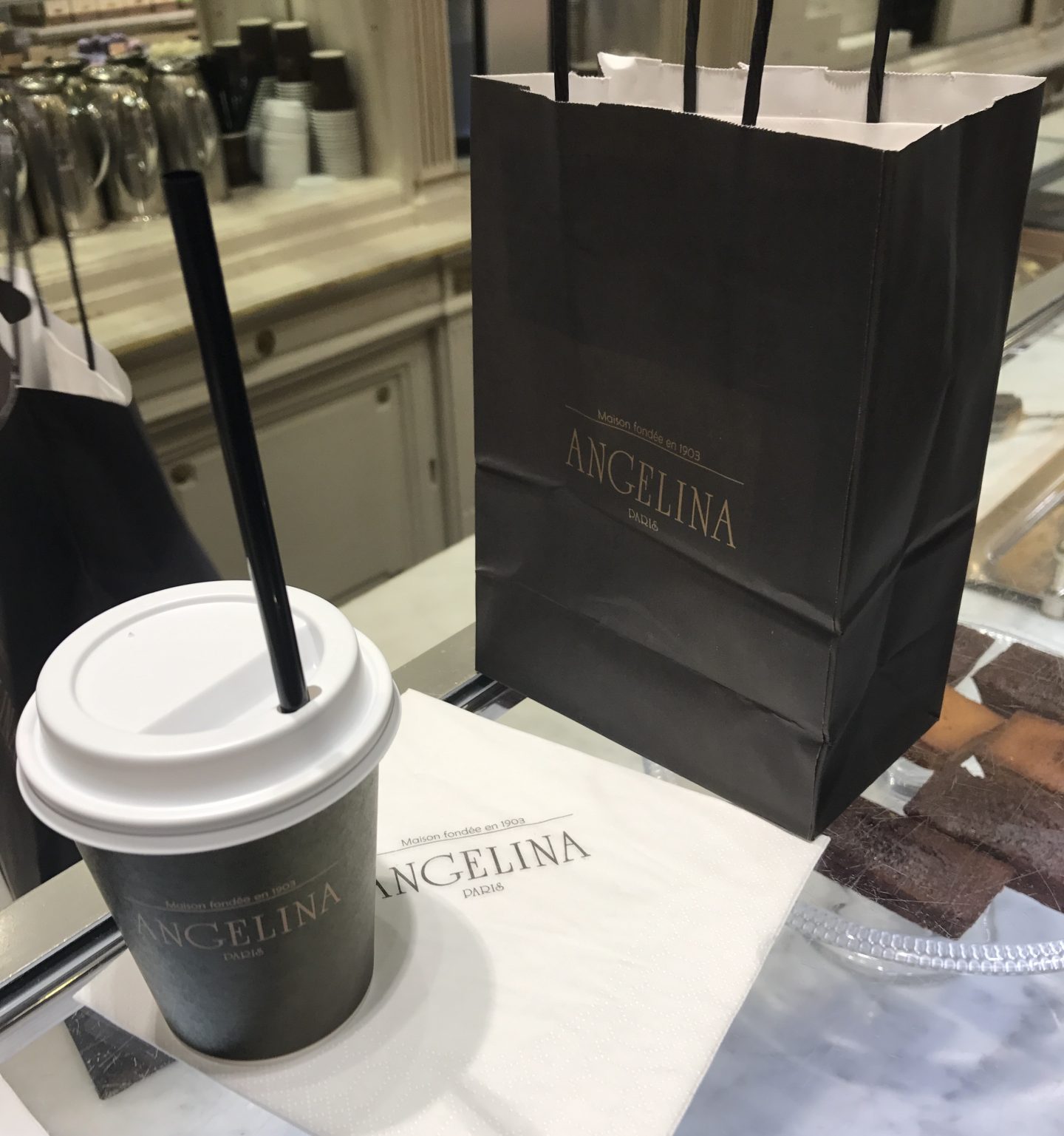 We went for breakfast crêpes in Montparnasse. This area is know for its streets lined with Crêperies, the trouble is choosing one. I like to go for the busiest place as that's usually where the food is the best. The most popular online were La Crêperie de Josselin and Crêperie Plougastel and both were packed. We went with Plougastel. It was cosy and welcoming, the waitress was rushed off her feet and still greeted us with a smile. The chef also said hello to us while we waited and watched him making everyones lunch at lightening speed. Brunch this traditional crêperie was delicious and well worth the wait. The place was full and the chef can only make 3 at a time, so be patient!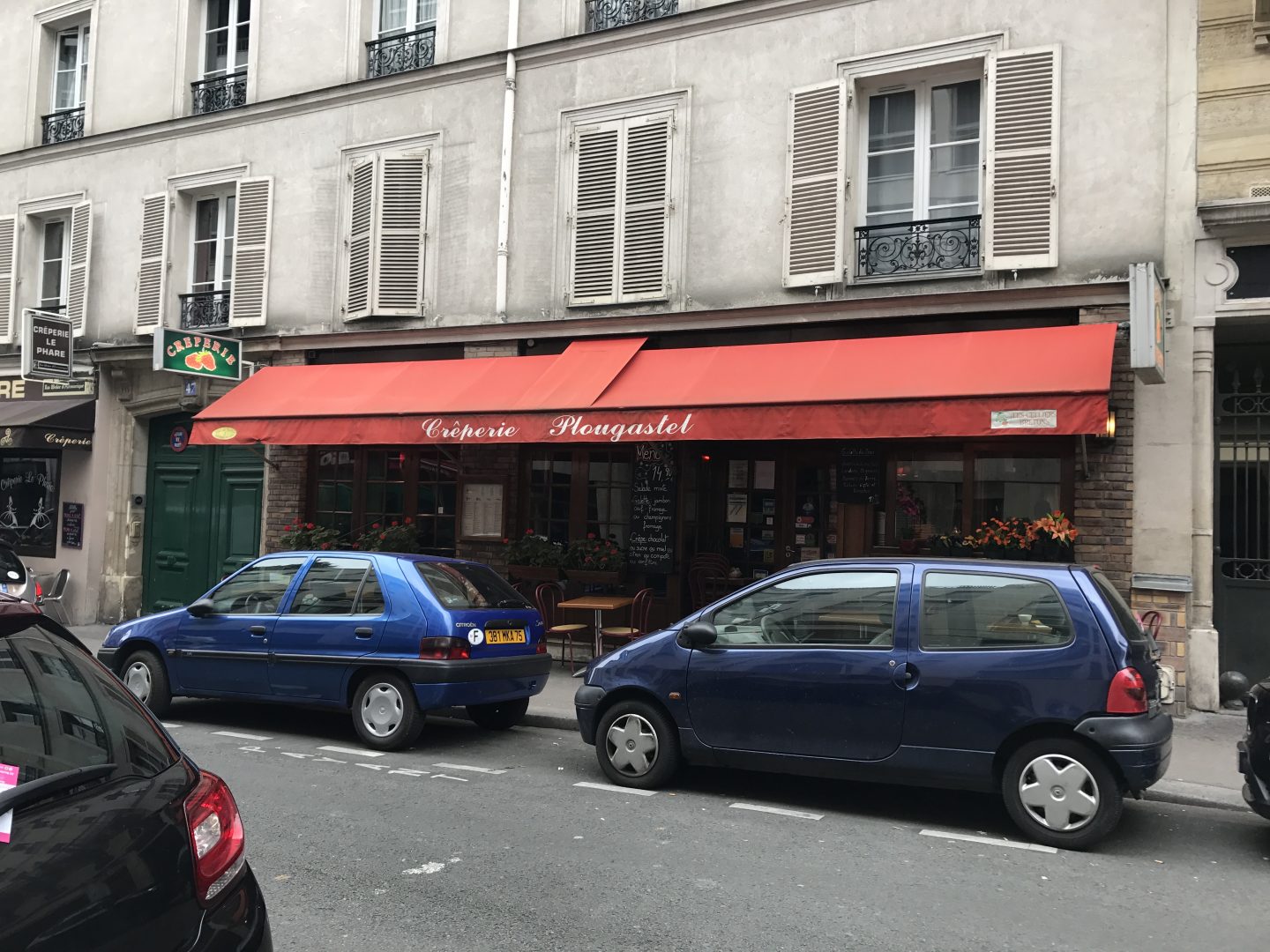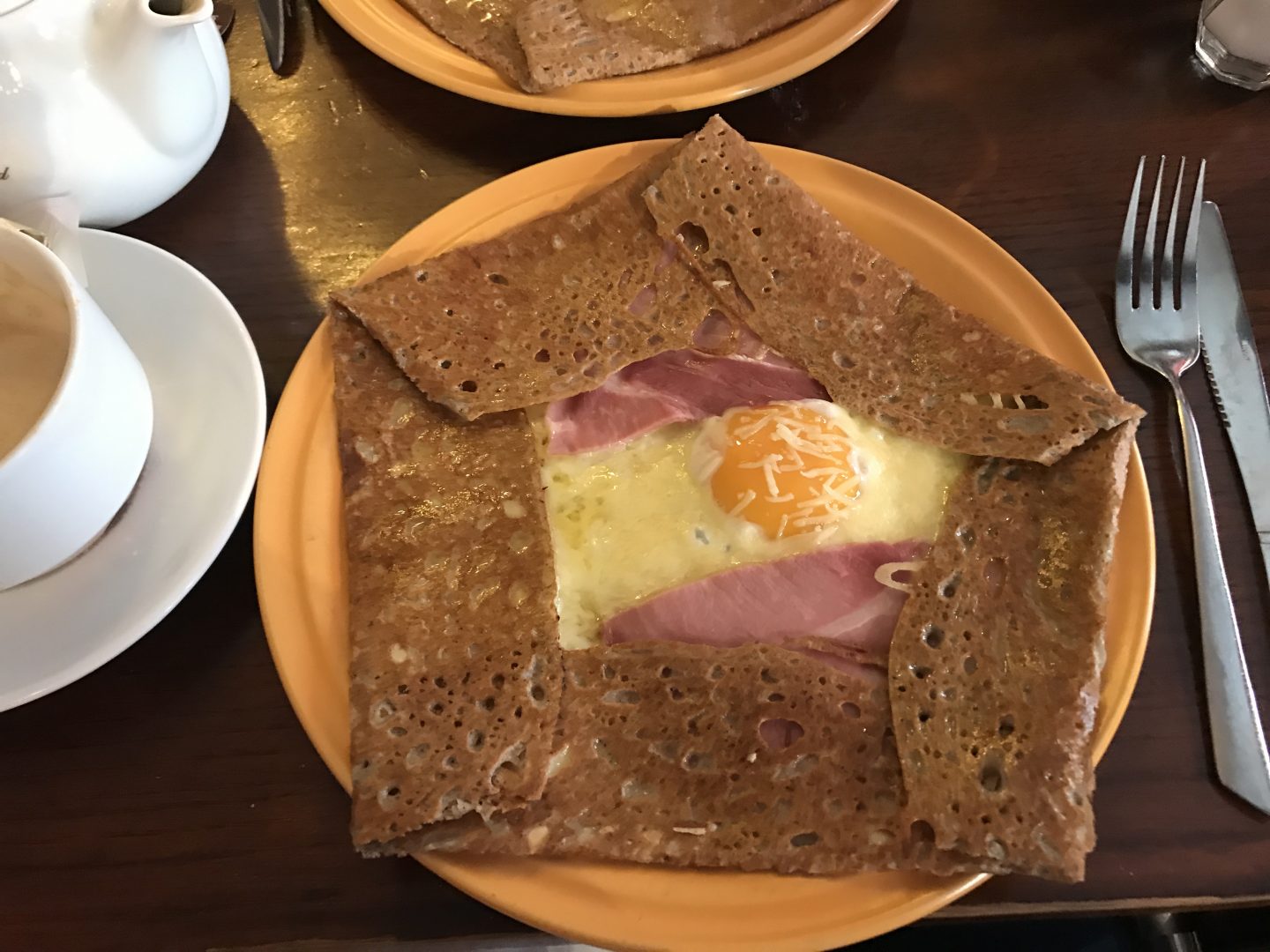 Pain, Vin, Fromages is the only place to go for cheese fondue in Paris. Everyone told us to book as it's always busy but we thought we'd chance it soon after it's 7pm opening. We got lucky but within 10 minutes of being seated the staff had turned away at least 4 tables telling them all to come back around 9 and try or book for another day!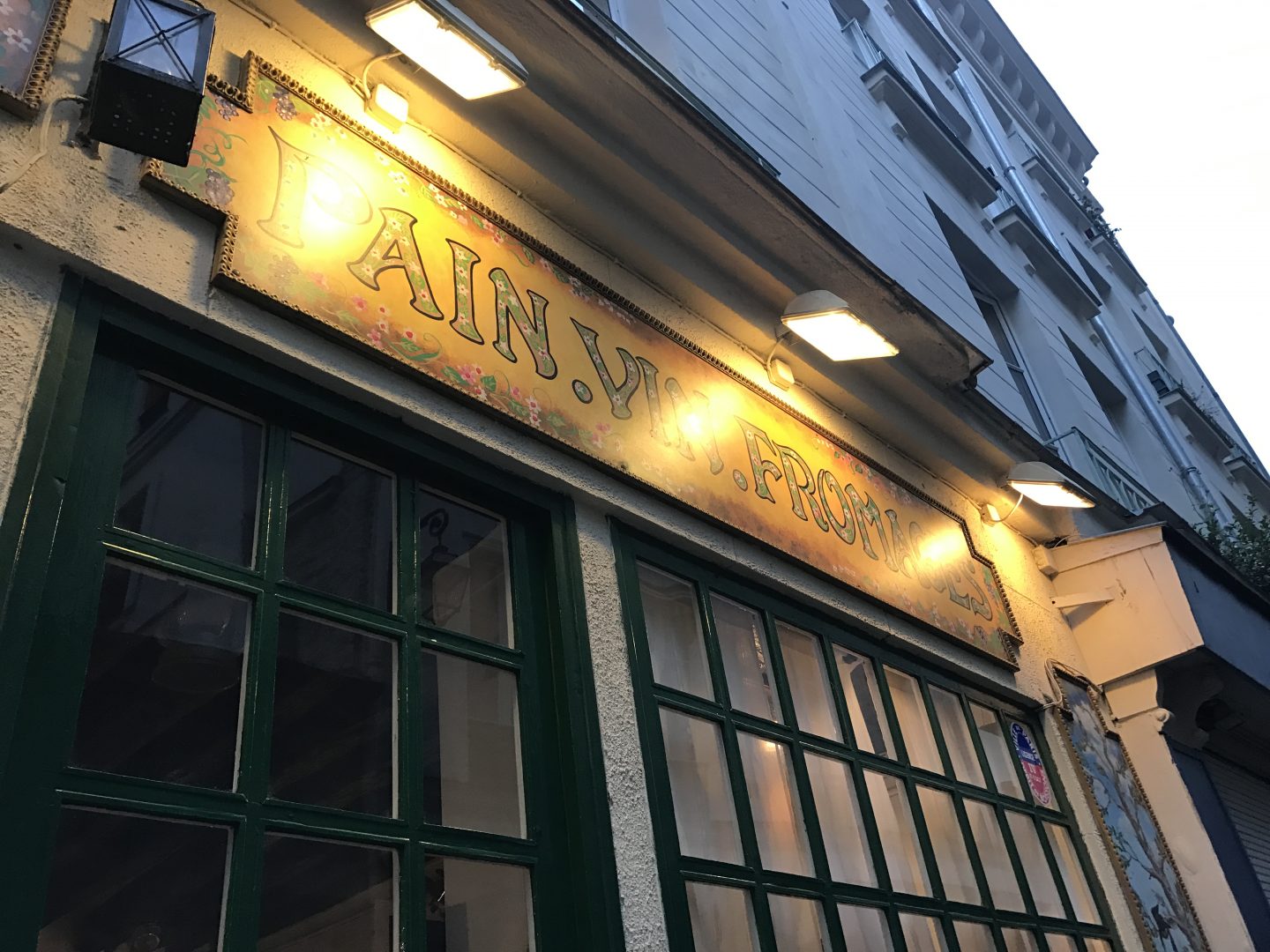 The menu is simple. Salads, meat and cheese. We ordered the mixed ham plate and a classic fondue. It was hard to choose as they had camembert and raclette on the menu too but more than one would have been far too much for the two of us. I'd 100% recommend booking a table so you don't miss out. It was fun, social and absolutely delicious.
On our final afternoon we took an uber to lunch at Le Soufflé. I saw someone post a picture outside here on instagram and it looked adorable. I then searched their lunch menu and they offer a great deal from 12-2. Salad, savoury and sweet plus a glass of wine for €29. It was my first time having soufflé and it was soft, light and airy. I can't imagine getting better elsewhere! The service was amazing the waiter gave us several other recommendations for around the city as well.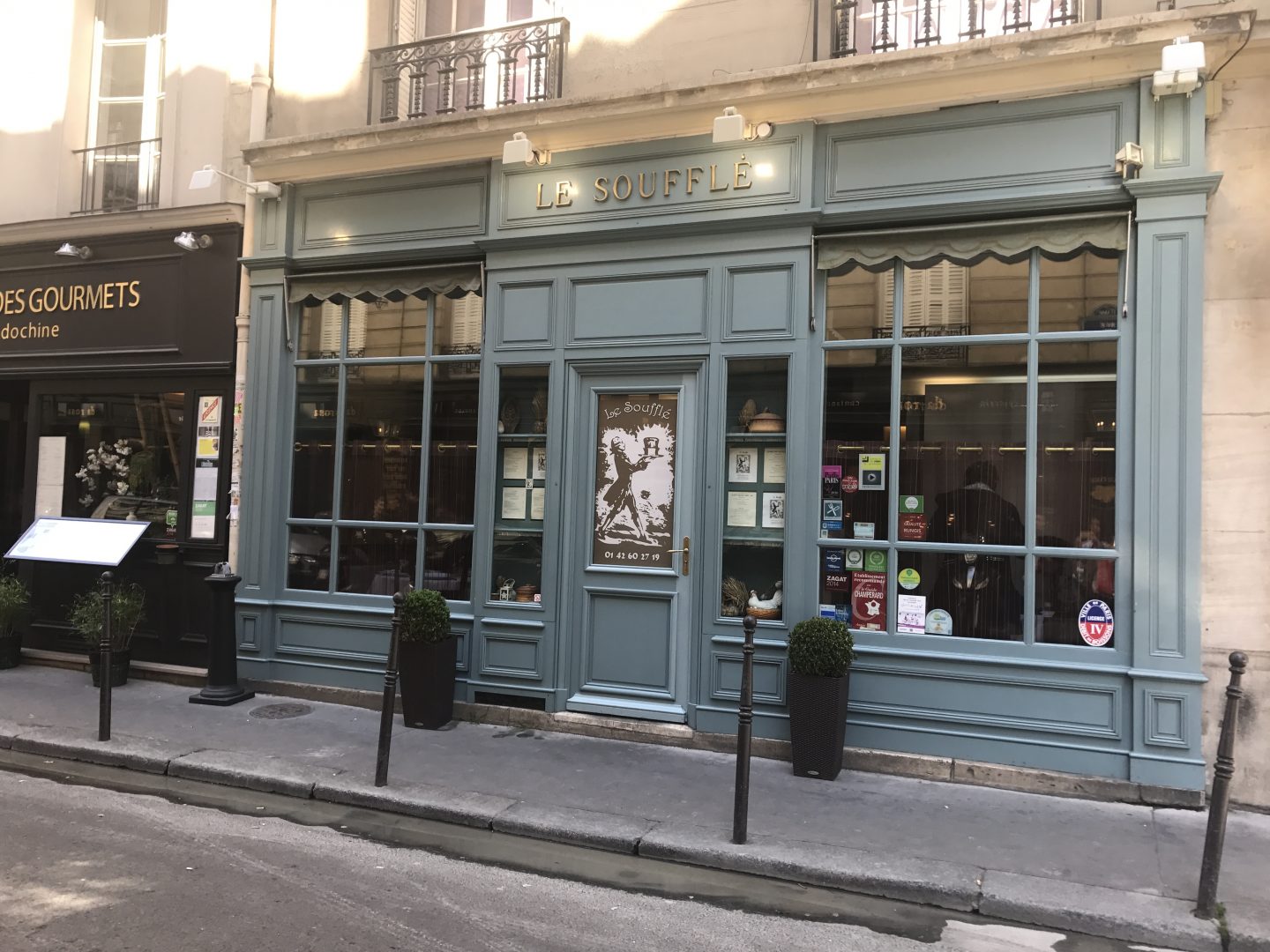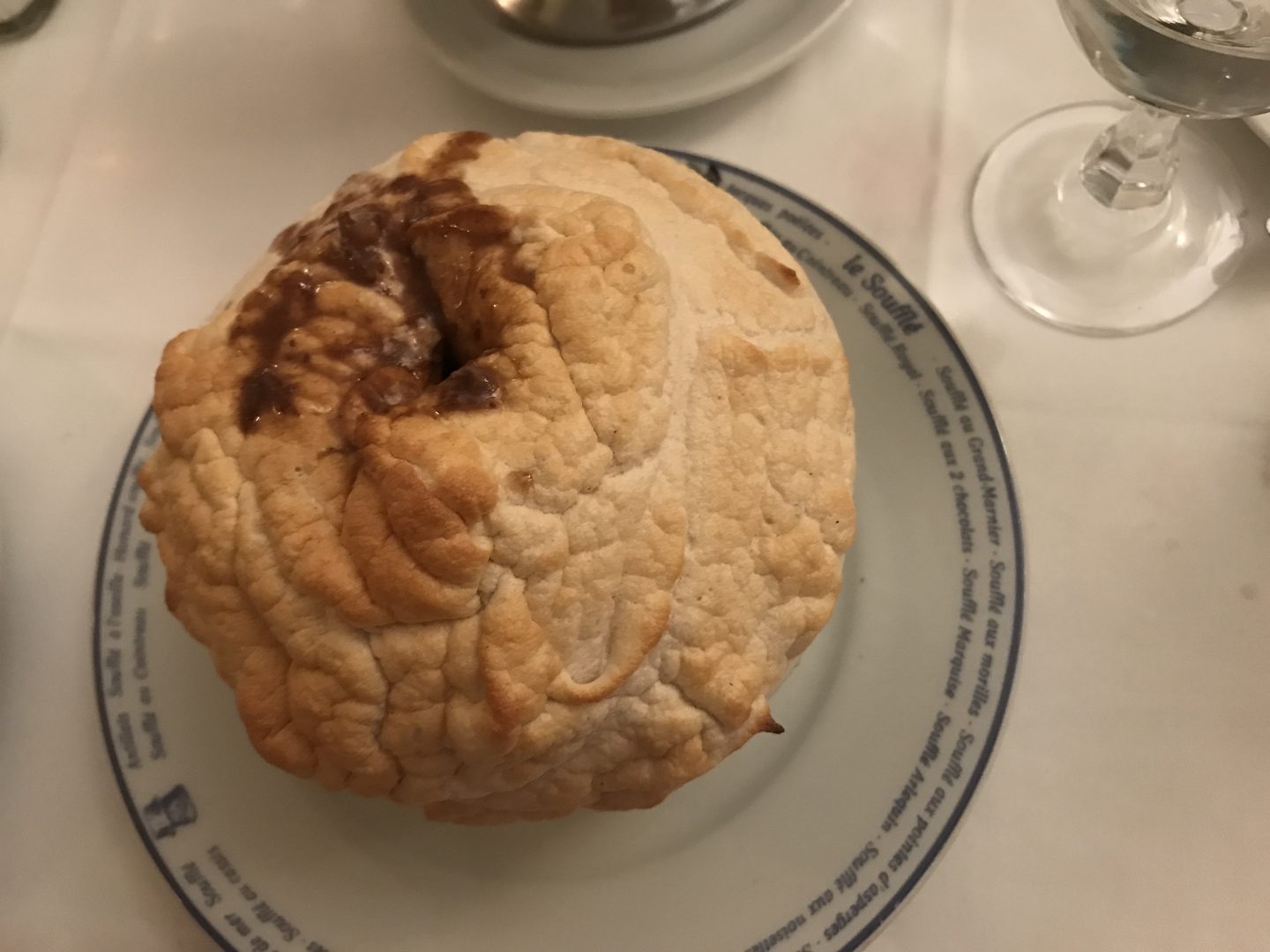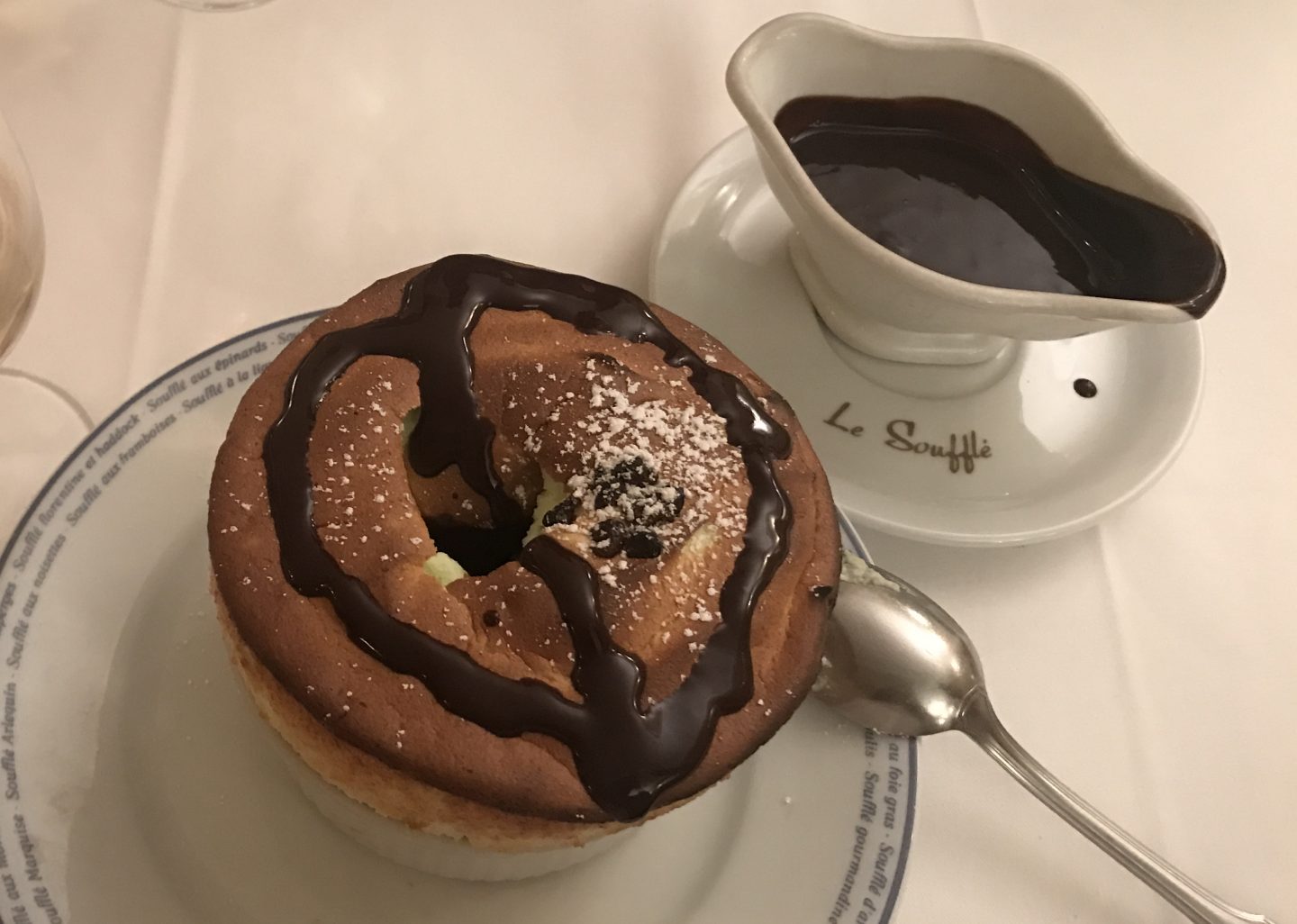 Shop
Ave Montaigne and George V are where are the luxury boutiques are. We walked up past the Plaza Athénée and popped into Dior. The gorgeous bags made my heart hurt. If I didn't spend all my money on travelling it'd definitely go on handbags!
We then went into the big Sephora on the Champs-Élysées. It was packed. It actually wasn't a great experience because it was so busy. People were in the way and it wasn't enjoyable having sales assistants lurking over your shoulder as you tried a product. We later went to a quieter one but the shopping in Paris worked out a little more expensive due to the current exchange rate. The Champs-Élysées is so touristy it's like Oxford street, I'm glad we went down there but it wasn't for long!
We actually got the metro to the Hard Rock café to get my brother a tee and then took an Uber to get an early dinner in La Marais.
My favourite part of Paris to shop is the Grand Boulevards of the Opera district. They house what's known as The Grand Magasins or to you and I the most gorgeous department stores. Printemps Haussmann and my favourite, Galeries Lafayette. I'd seen pictures online of the spectacular stained glass roof of GL and the view from the balconies overlooking the beauty hall, but it was even better in person. Absolutely stunning! And looking down at all the luxury brands just made me want to spend tons on make up!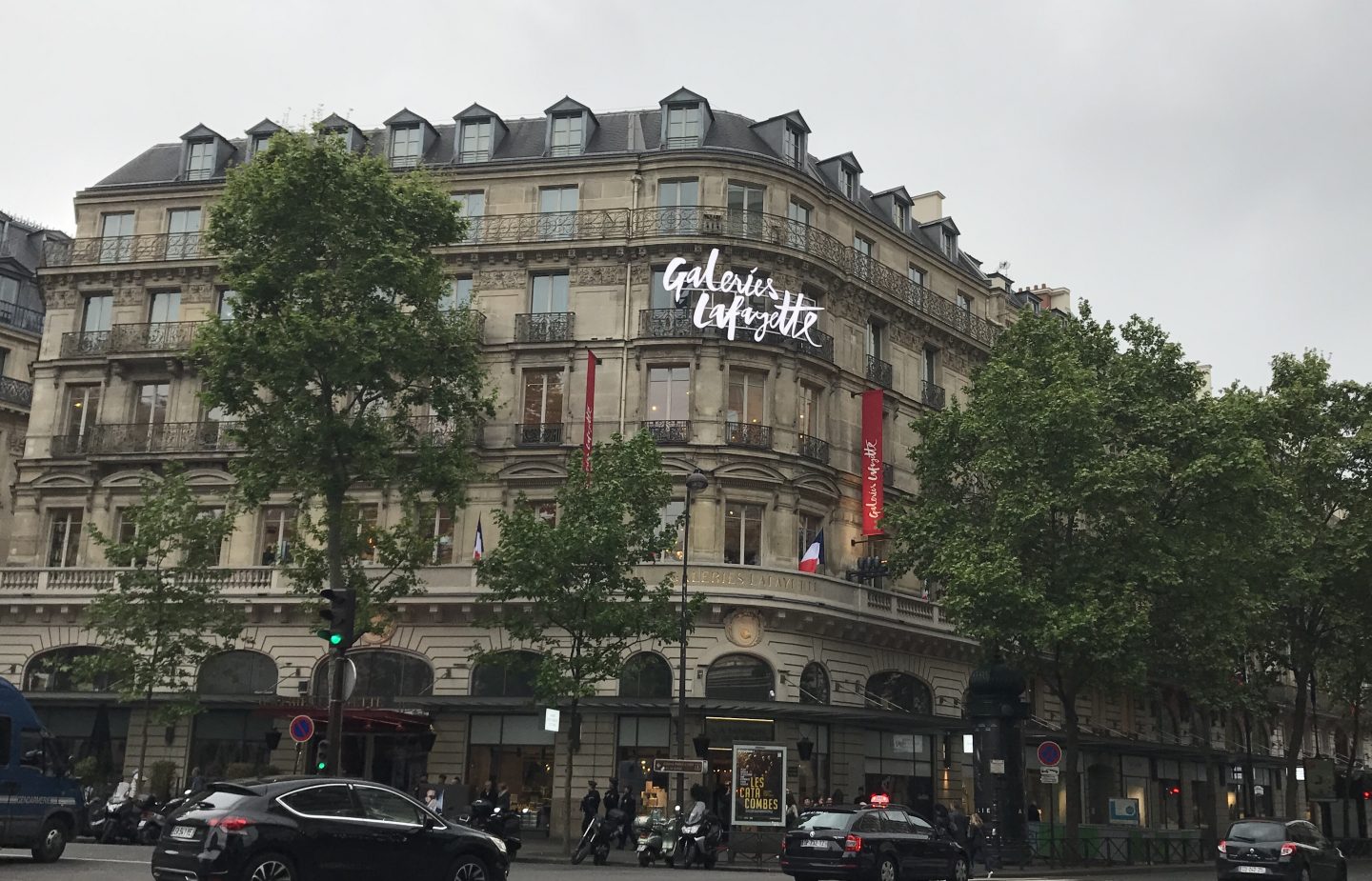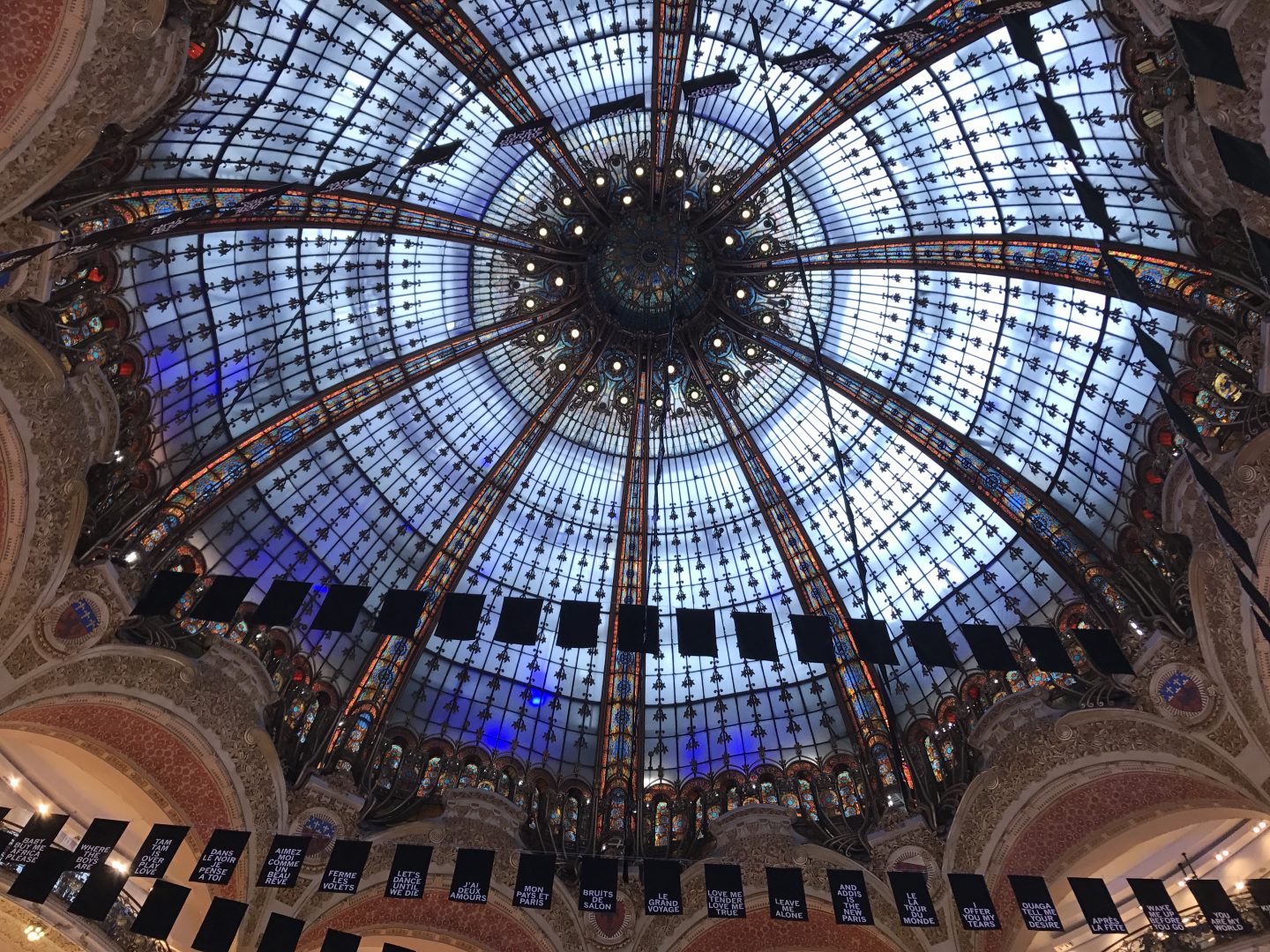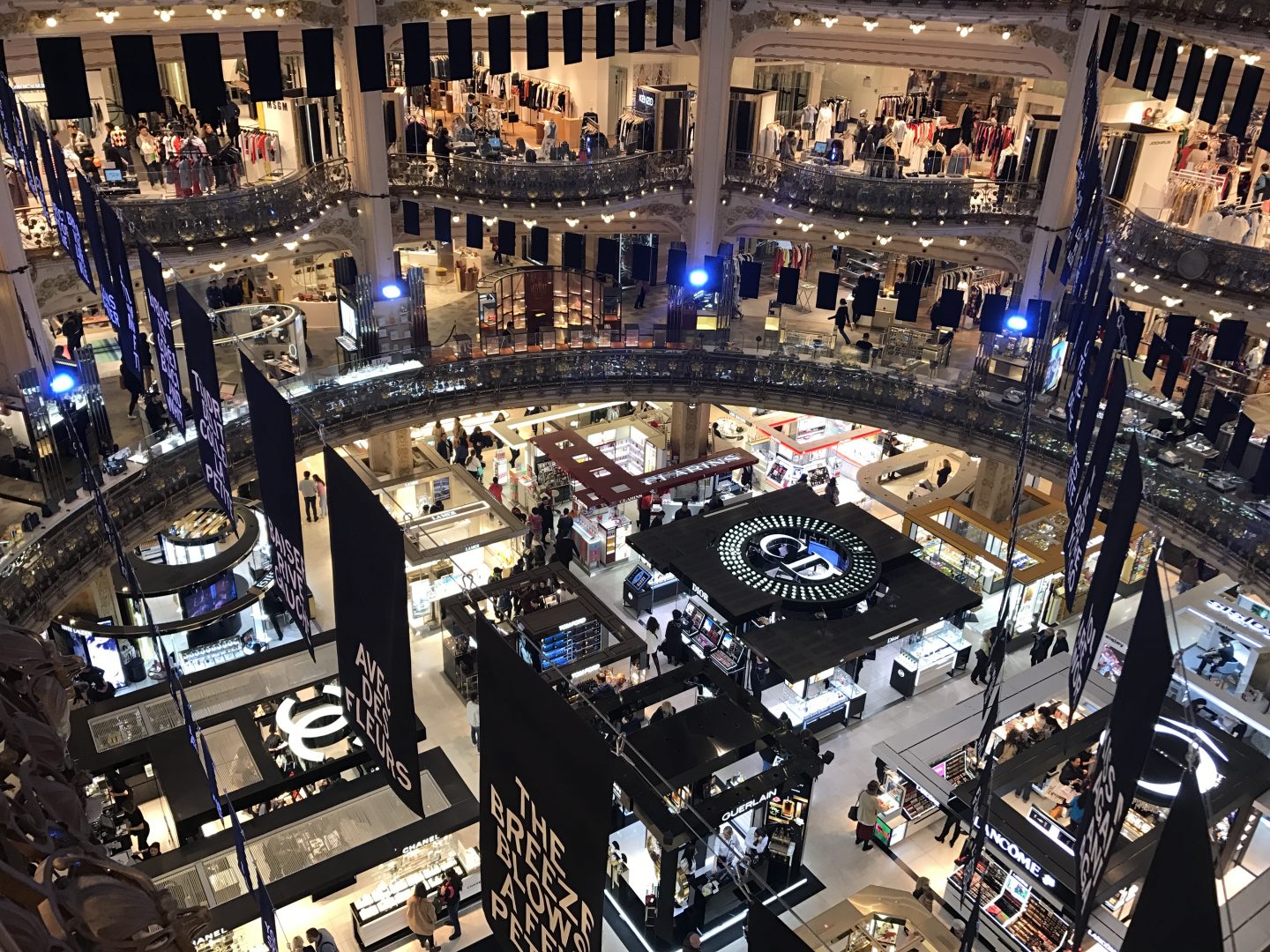 We also checked out Passage du Havre where there are some more affordable high street stores. My favourites were a few stand alone beauty boutiques as well as a much quieter Sephora. I've written more about those and my Citipharma experience in a separate 'Beauty Shopping in Paris' post that's coming next week.
Party
We had planned to get dressed up and go out after dinner but clubs only open Wednesday or Thursday through to Saturday. A promoter I know in New York pointed me in the right direction of some current hotspots but we were visiting at the wrong end of the week!
We did go for a couple of drinks around the Pigalle area but quickly learned this wasn't the type of area we should be hanging around in…
I'm disappointed with our timing to visit the Louvre. I'd love to have seen Mona Lisa but the tickets are valid for a year so we'll definitely go back.
I also can't believe we stayed right near the Sacré Coeur didn't manage to get up there, or get a boat trip in down the Seine! At least we already have a list of things to do on our next trip!
We'll return for a long weekend Friday to Sunday next time as there will be less touristy things we need to see and we can get some partying in as well.
2 nights is definitely enough and the Eurostar is so convenient. I can't believe Paris is only a train ride away yet this was the first time I'd spent more than 12 hours there, I completely fell in love.