I've recently revamped my wardrobe space and streamlined my clothes into a more concise selection of classic and seasonal pieces. I hope to eventually phase some of them out with more high end or better quality pieces but for Spring 17 this is how it looks!
It's been an ongoing journey. I used to keep all of my clothes in our spare room. It was messy and unorganised. I couldn't see it all properly and I'd forget what I have. This meant stuff just got hoarded, I mean things were still hung there I'd had since uni! So I've just had a huge clear out. I've put some stuff on 'Depop' but sent most of it to charity shops or boxed it up for my next trip to Asia/Africa.
The process began with making a list of all the things I have, what I need – exploring this seasons trends then trawling through TONS of websites.
Pinterest has been fantastic for me to brainstorm. I went through online shops and saved everything yes everything I liked and could realistically see myself wearing to this board here called Highstreet SS17.
I've found it hard to differentiate between work and home clothes so have decided instead of trying to keep them both totally separate it's best to have 4 or 5 Key Outfits of things I love then I can dress them up or down depending on where I'm going or what I'm doing.
I then spent three mornings trying it all on. I went into London and whizzed round Oxford Circus visiting each store and trying every single item I'd pinned. I bought a few key pieces on the day with vouchers I got for Christmas and made note of everything I liked and was 100% about buying.
It was important for me to make a list of everything I really liked and then spend a good week thinking about how much I'll wear it. I asked myself whether some pieces were worth the money and then grouped together and considered how many white blouses etc.
I'd much rather mull it over for a few days than make an impulse buy and have to return a ton of stuff. Plus going shopping before my late shift at work – I didn't want to be carrying a ton of stuff into the office and then home with me!
So after careful consideration I ordered everything that won a place in my seasonal wardrobe online. I like to shop through the Avios e-store collecting points (last year I used them to go to Barcelona, this year I'm going to Ibiza with them!)
Plus it all gets delivered to my house.
The final part was waiting for it all to arrive, unpack and wash. I can't tell you how exciting it was to hang/ fold it all in my gorgeous new room. I love that all my key pieces are on an open rail, I can see what I have now and I'm regularly wearing it all.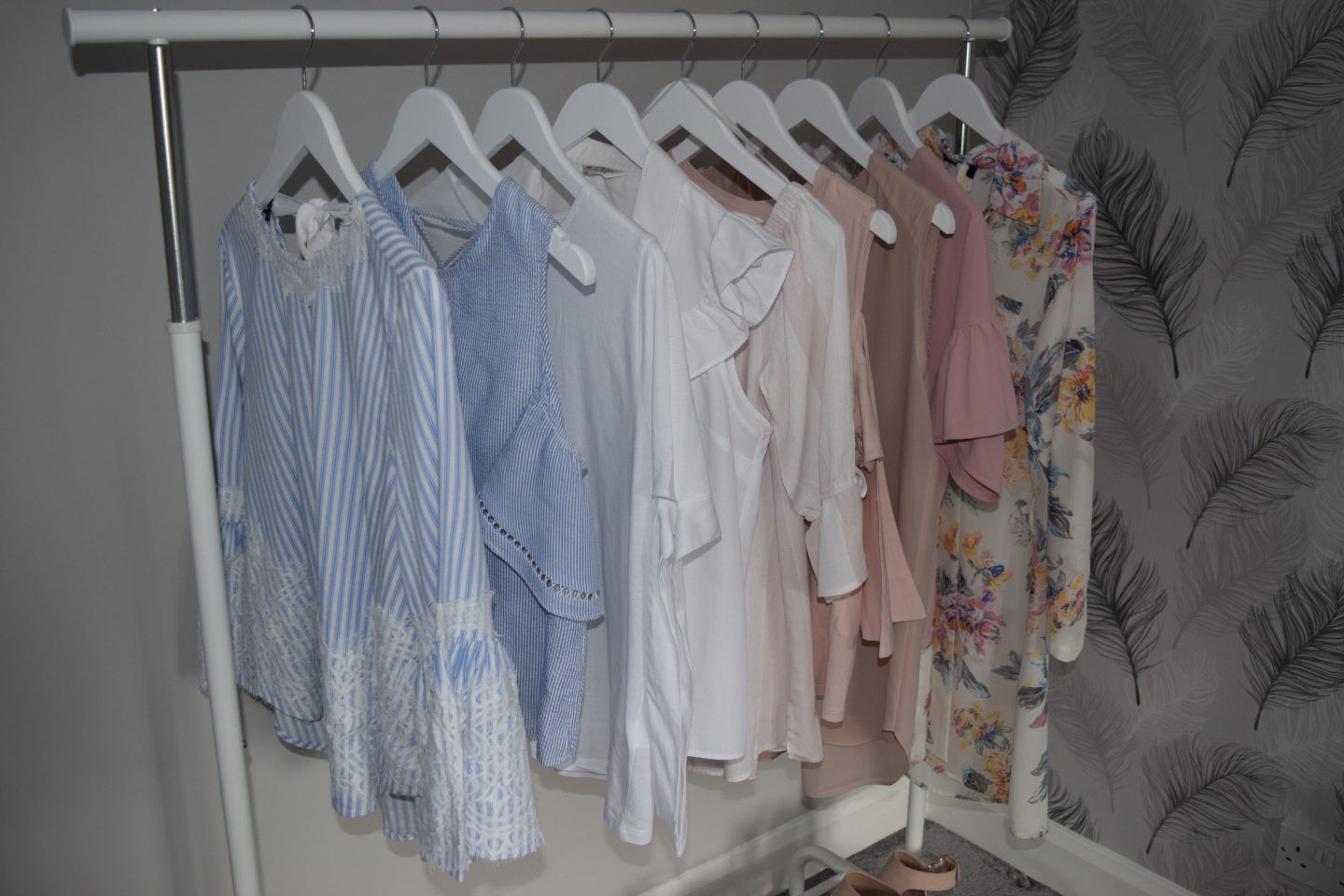 The process was long but by planning out what to buy and trying it on, thinking carefully about purchases and not making impulse buys I've saved money and bought items I know I'll want to wear more than once, that are versatile and can be dressed up or down.