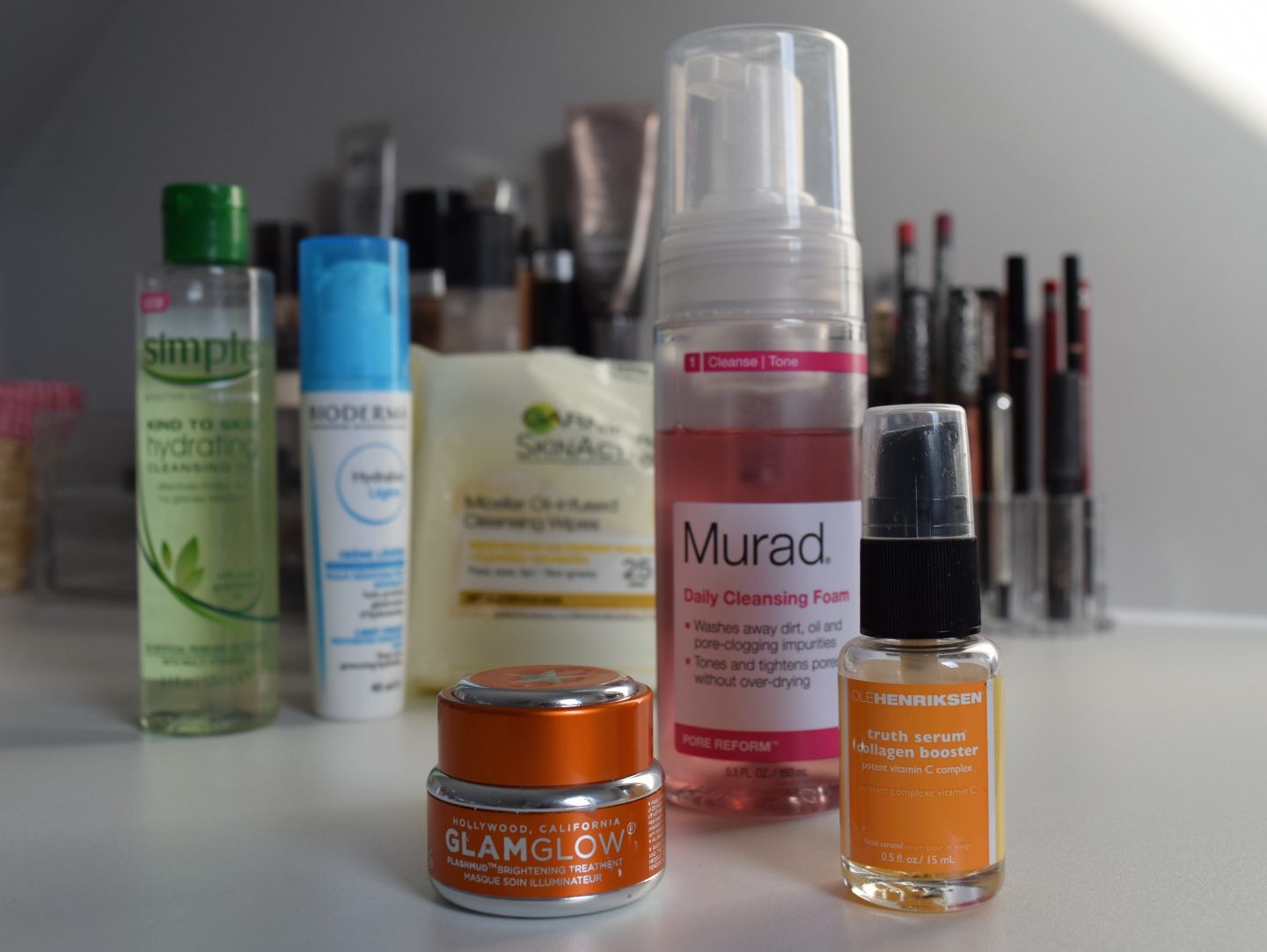 My skin has been looking and feeling great recently and it's down to a few bits I've added to or swapped in my skincare routine. I'm still using the old favourites like Bioderma Sensibio H2O, Pixi Glow Tonic and my trusty Oil Free Moisturizer by Kate Somerville but think the change has stemmed from the way I'm removing my make up at night – as that's where the most products have changed in my routine.
I've been using the Garnier SkinActive Oil-Infused Micellar Cleansing Wipes which I discovered on my way to Dubai in October. We picked these up in Boots at Heathrow to remove our make up on the plane and I was blown away. I like WET make up wipes. So much so I usually remove it from the pack and drown it in micellar water, but these are magic! Micellar water and cleaning oil, on a wipe! YES. So good as a pre cleanse and winners for travelling.
After removing the majority of my make up with a wipe I then like to cleanse with a hot cloth cleanser or balm. But recently I've been using the Simple Kind To Skin Hydrating Cleansing Oil, I pop a few drops in clean, dry hands and apply it to my face, removing all the mascara properly then rinse my face with warm water and pat it dry. Its such a thorough way to remove eye make up and leaves my skin feeling clean and smooth.
I then finish up by using the Pixi Glow Tonic and moisturise with the Bioderma Hydrabio Légère / Light Cream. I love this moisturiser, it comes in a pump and is nice and light but extremely hydrating which is what I want for my skin at night as during the day I wear products that keep the oil at bay. Extremely happy that you can now get Bioderma in Boots I think it was the last brand to join us on the shelves from France.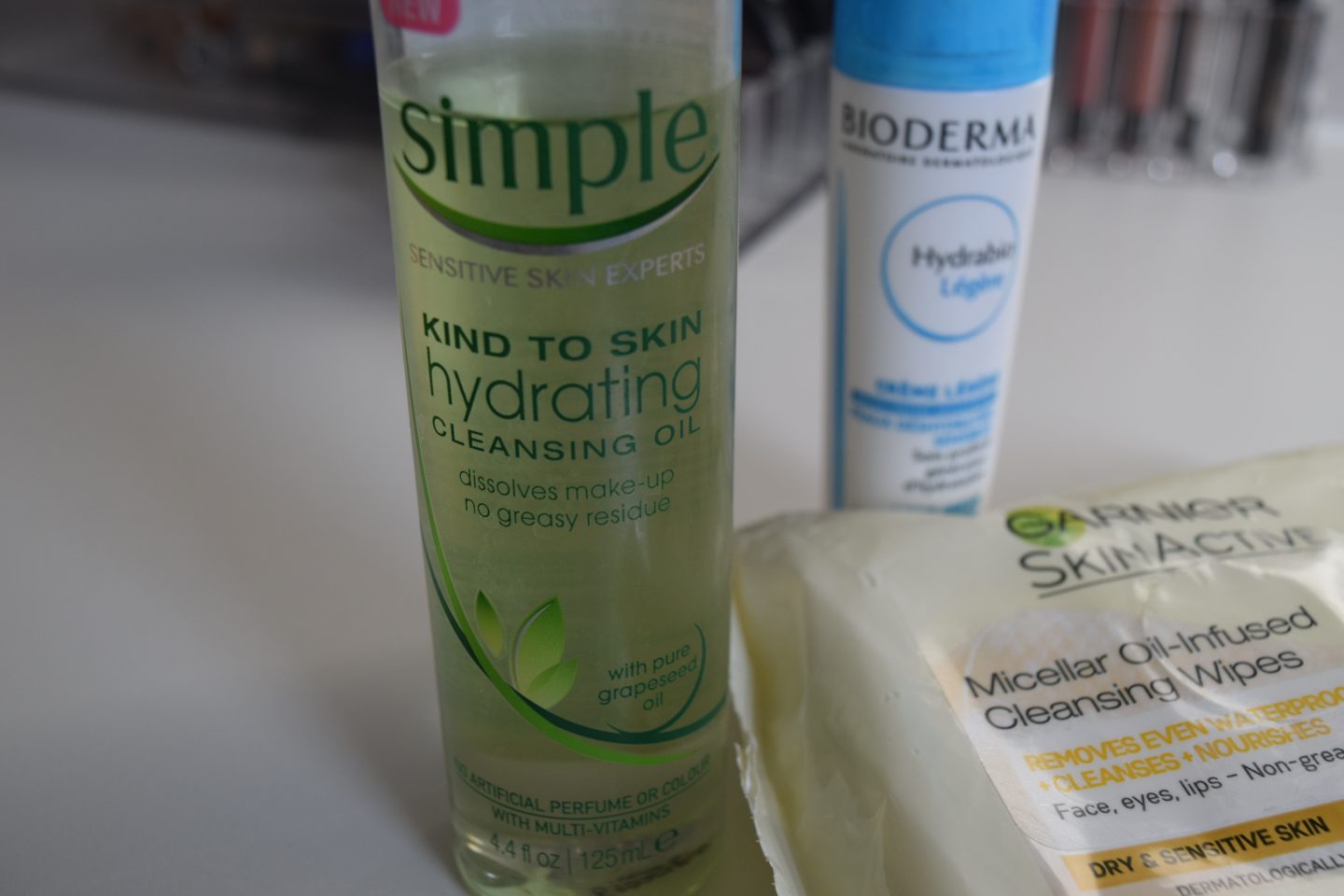 I like to do a mask on a Sunday and  midweek depending on how my skin feels. It might be tired, dehydrated or clogged from wearing make up every day.
Recently I've been using the FLASHMUD™ Brightening Treatment by Glamglow which literally makes your skin gleam! It's a clay mask with tons of swanky brightening and exfoliating ingredients. I leave it on until it dries and then wash off gently with warm water. The crystal-like particles can be quite abrasive so go careful, but they along with the chemical brightening ingredients leave you with a nice smooth and bright complexion.
2 of my other favourite masks are the Masque Bar Luminizing Charcoal Peel Off Mask which I did a whole post on here and the Boscia Sake Brightening Hydrogel Sheet Mask that I just stocked up on in Sephora. The Boscia masks are a definite favourite of mine from the sheet mask family because they sit so nicely on the skin and lock the brightening gel into your face. They feel so luxurious and leave my skin feeling extremely hydrated as well, it's such a shame they're so hard to get hold of in the UK!
I then finish my little pamper by applying the Ole Henriksen truth serum collagen booster® and moisturise. I really recommend the set I got for Christmas to try the Ole Hen products. The 'Ole Henriksen The Works Kit Eye Edition' from Feel Unique. I'll definitely re purchase the full size serum and moisturser.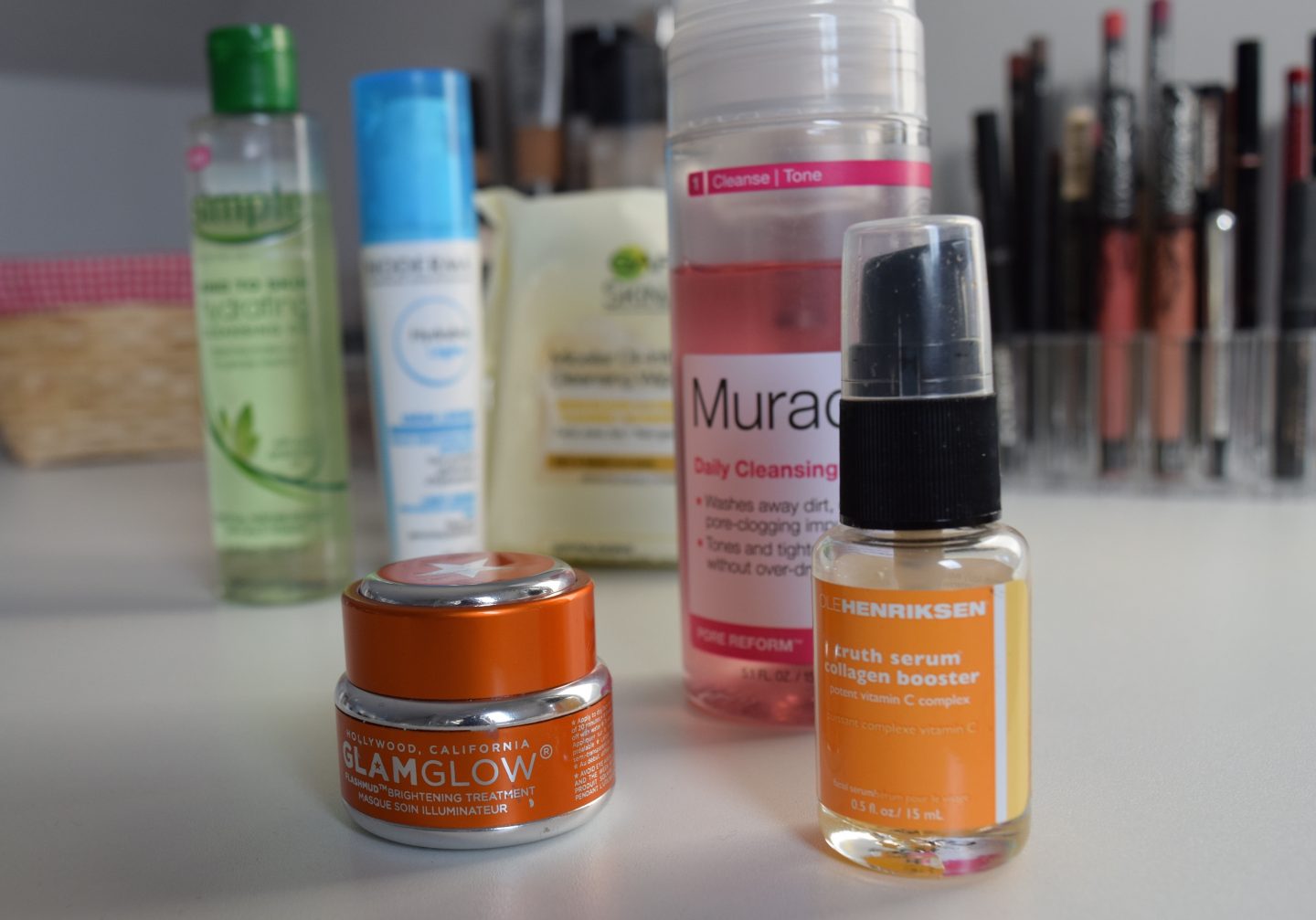 Finally, I think the biggest change has been a result of using the Murad Pore Reform Daily Cleansing Foam every morning. Its £19.50 and I mean £20 for a face wash seems a bit extreme but I got this on Look Fantastic around Cyber Monday as a treat. I was looking for something less harsh than an exfoliating wash with beads (I usually use Biore or Clean & Clear) that I could use in the shower daily.
I'll be honest, all I saw was foam wash it's pore refining with pomegranate and was sold. I always compare foam washes to the Simple one as that's one of the only ones that doesn't sting my eyes! But this one from Murad really deep cleans my face leaving it feeling smooth and clean. After a couple of weeks I could see a change in my skin and really think it's been down to upping the quality of my in shower cleanser.
In the morning I then follow my cleanse with the Bioderma Hydrabio toner and my favourite Kate Somerville Moisturiser.
People always ask me what the best masks are or moisturisers for certain skin types. I don't believe in using just one brand all the time as your skin gets used to the ingredients and they don't work to their full potential.
My best piece of advice is to find a nice balance with skincare, look at what your face needs and tailor your routine.
What are your current favourites? Do you mix high street and high end products too?