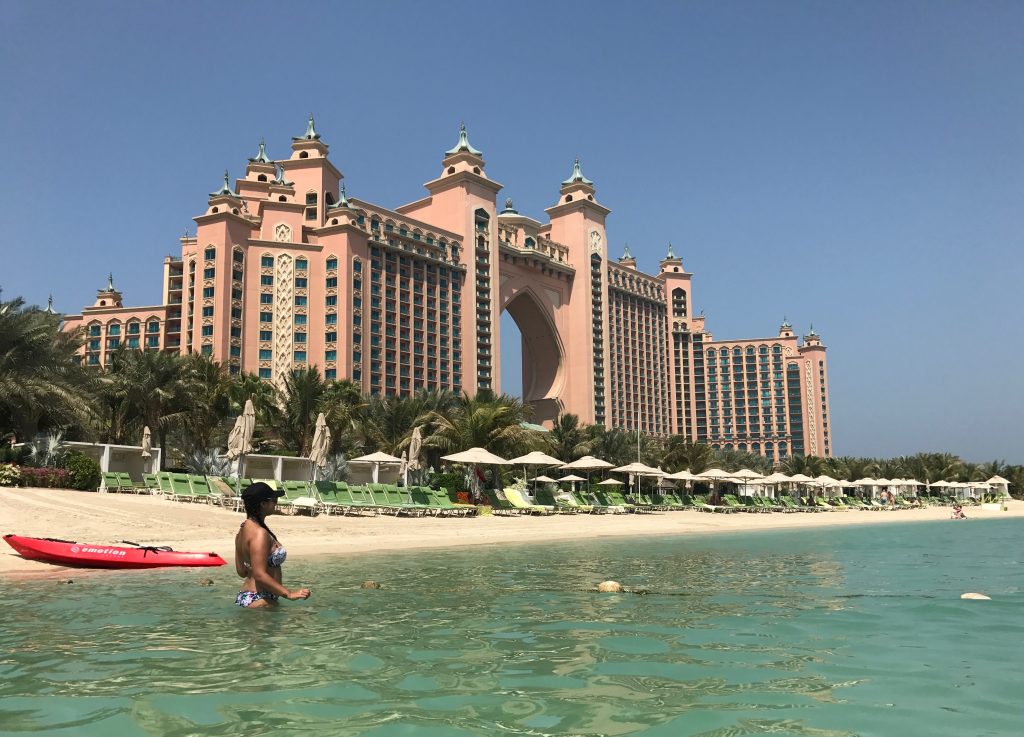 Laura and I have been el desperado to sun seek somewhere other than Ibiza so we decided to book Dubai for our birthdays. Stevie also has a September birthday and was finishing her Masters too and came along!!
So just as all the troops start their return to cold, wet and windy England we were booked out of Gatwick on a nice 8 hour flight to the desert.
I've only been to Dubai once with my family so we were keen to go to brunches and parties as well as see some sights.
We got the overnight flight out of London so landed at 7am, put our bikinis on and headed over to Nasimi Beach at the Atlantis. It was SO hot the sea was like a bath. We were there on a Thursday where there's no minimum spend for women, so set up camp at 3 beds on the beach and ordered water. Trust me when I say it was too hot for alcohol (that early after flying) there were no daiquiris in sight.. yet!
It was relatively quiet so we just laid out, got some sun and took a few snaps in the sea before heading back for a little snooze. I'd recommend going for the fun Atlantis snaps, but the man made beaches on the palm aren't the nicest. I think I'd only go back for an event – as they do have some good artists booked now the hottest part of the year has passed.
Friday was my Birthday and we went to the Candypants Brunch. I was way too hungover from VIP Room Thursday night – I'll never learn not to go OTT on the first night! Shameful as Friday was my actual Birthday. I have no good photos and didn't eat or drink a thing. Definite regret.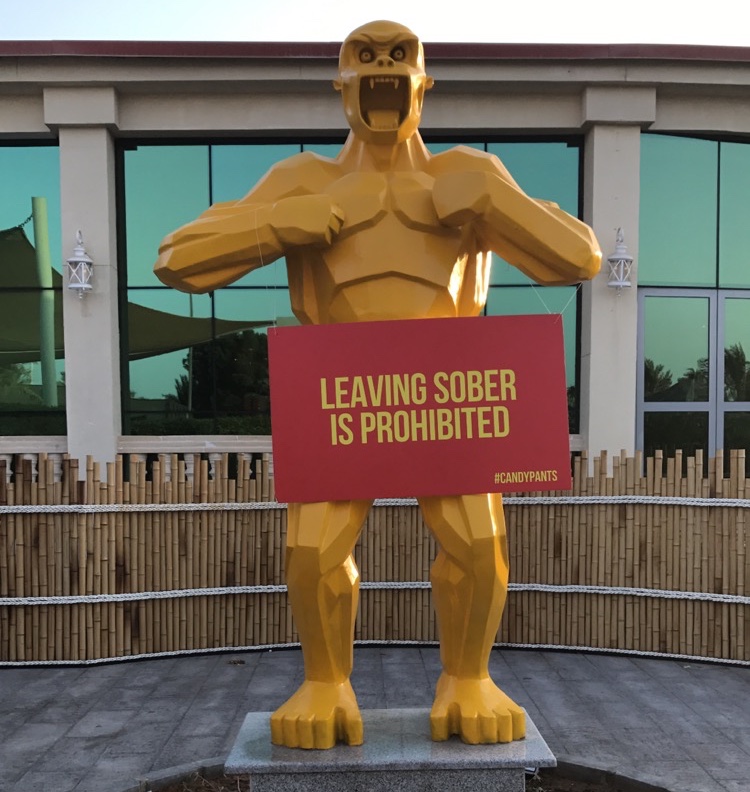 It's at the Habtoor Grand hotel at the end of JBR from 1-4pm. We got a taxi, then a little golf cart takes you around to the party. I was really impressed with the set up and the music it looked so fun, I was just way too rough to participate!
I did manage to come around for the afterparty next door at XL. The music was great the people were beautiful and I did manage to get a little dance in!
It's 350AED so make sure you get there at 1pm to really get your money's worth.
Blue Marlin's Brunch was Saturday. At this point I was feeling fresh and ready to make up for my absolute failure at Candypants! We didn't book early enough though and by Saturday morning it was sold out! We decided to still get a taxi down – I called to reserve 3 beds on the beach and figured that just because we couldn't have the food or drink didn't mean we had to miss out on the party. When we arrived (after a journey that felt like we were halfway to Abu Dhabi!) we were given a brunch wristband and led to our beds on the beach. Jugs of cocktail were bought to us bedside and after I enquired feeling super confused, they'd given us the brunch deal anyway woohoo! I was really impressed with the staff and the service at Blue Marlin. The brunch deal was 295AED and it was worth every penny. We had a huge tray of 'tapas' bought over and were told anything we wanted more of they could bring. We started the day with a punch cocktail then drank wine and ended the day with Mojito. So it's safe to say I fully made up for my failure of the previous day.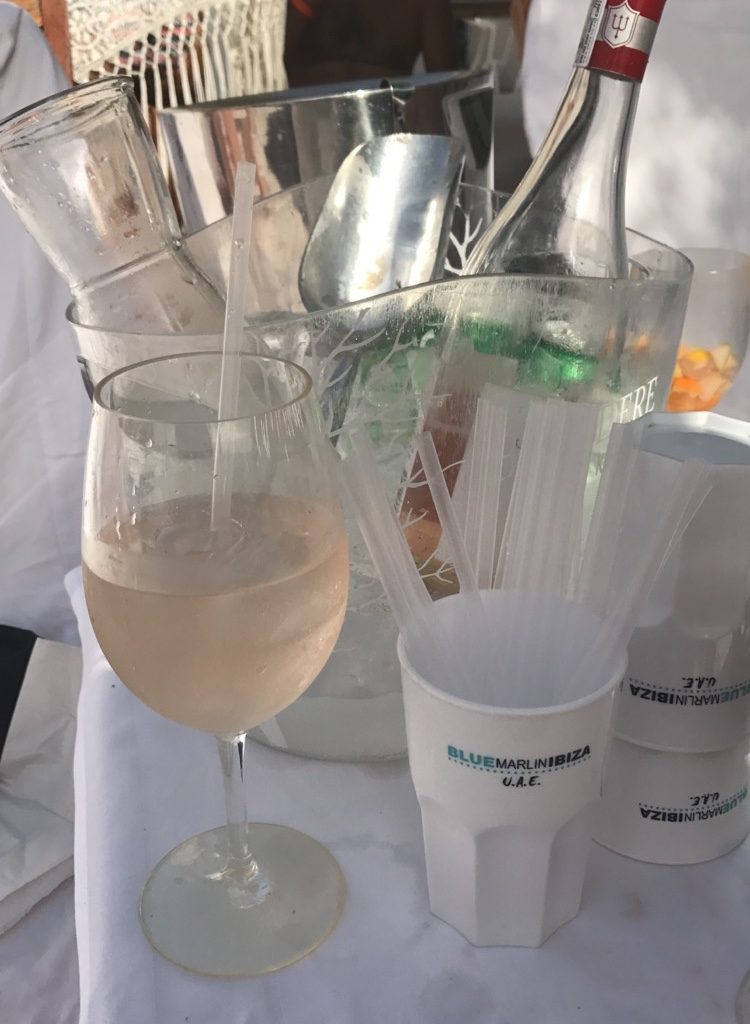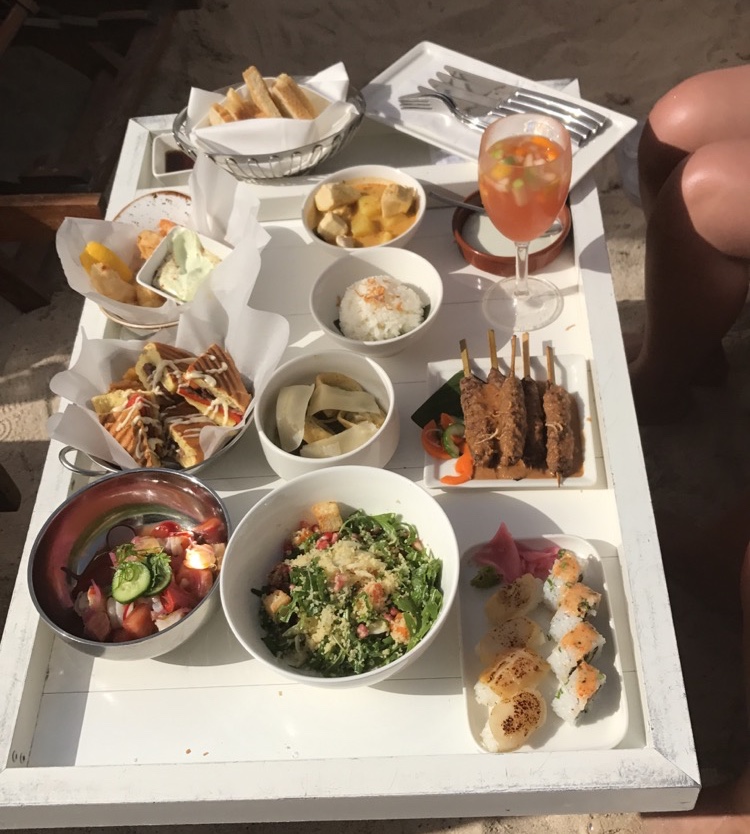 The music was more house-y than Candypants, I felt like I was in Ibiza. Funny really that Laura and I go every year and have never been to the Blue Marlin there. Problem is, now I've had such a good time at the Dubai one I don't think our experience at the Ibiza one could top it!
I 100% recommend the Blue Marlin brunch. We can't wait to go back.
As there were 3 of us it was gonna be hard to share one hotel room so we sorted an Apartment on JBR. I'd stayed here in 2012 with my parents and it just seemed great value for money.
If there were 2 of us yes we'd have stayed at the Royal Meridien or the Fairmont, but actually the apartment we stayed in was spectacular. Full living area, kitchen, 2 bedrooms and 2 bathrooms. You can find more details on the Amwaj Suites here. And the location is brilliant, we were right on JBR which has a ton of shops, hotels and restaurants. Dubai is like a cross between the UK and America so you have iHop and Benihana, Starbucks and Five Guys just down the street. Oh, it's also on the beach! Only thing I will say is it's residential and the locals can make you feel a little bit uncomfortable by the pool. We only hung there once as we'd planned to spend our days at Beach Clubs so didn't really affect us. Just a little pointer though.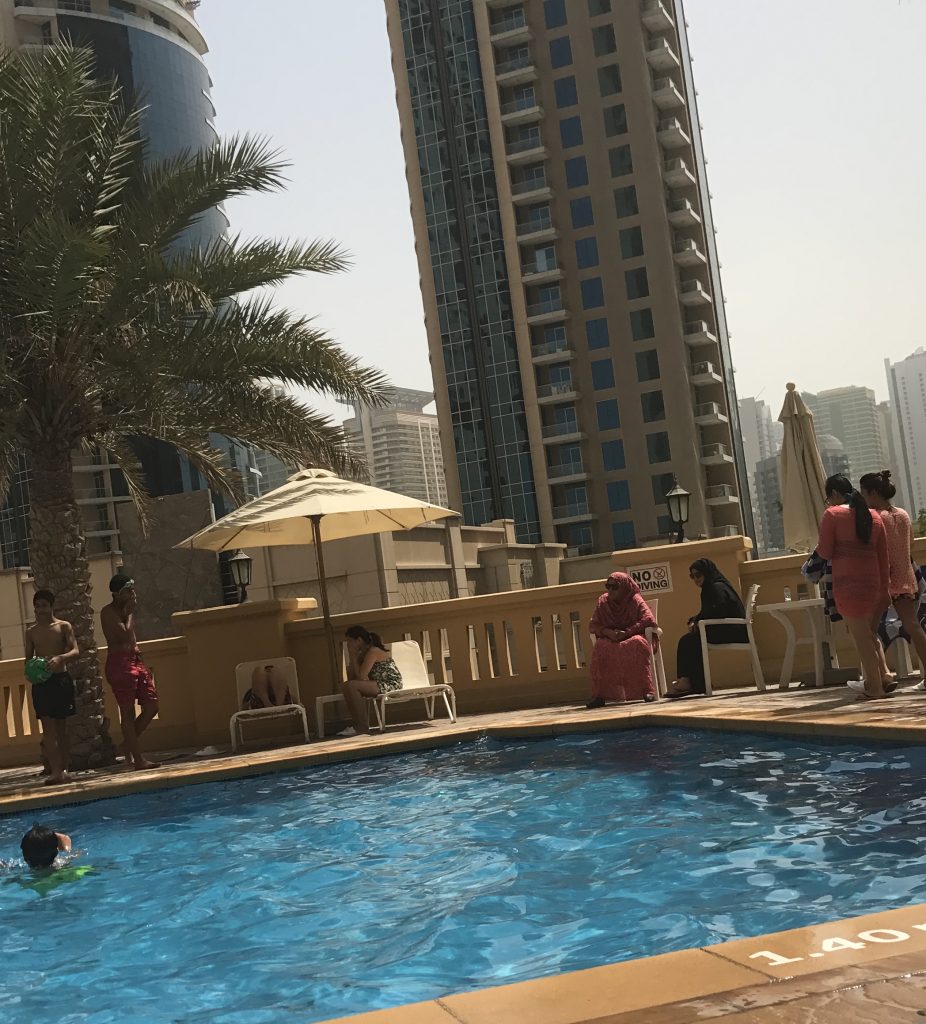 A huge Dubai myth is that there's no alcohol. You'll get arrested for possession of it and you can't buy it anywhere. Well I have a few friends on social media that live in Dubai and they always look like they're out and wasted. The club scene isn't really publicised like the Ibiza/Marbella ones with a calendar, but if you have friends that can recommend nights and help with promotors and guest lists the party scene mirrors London's pretty nicely.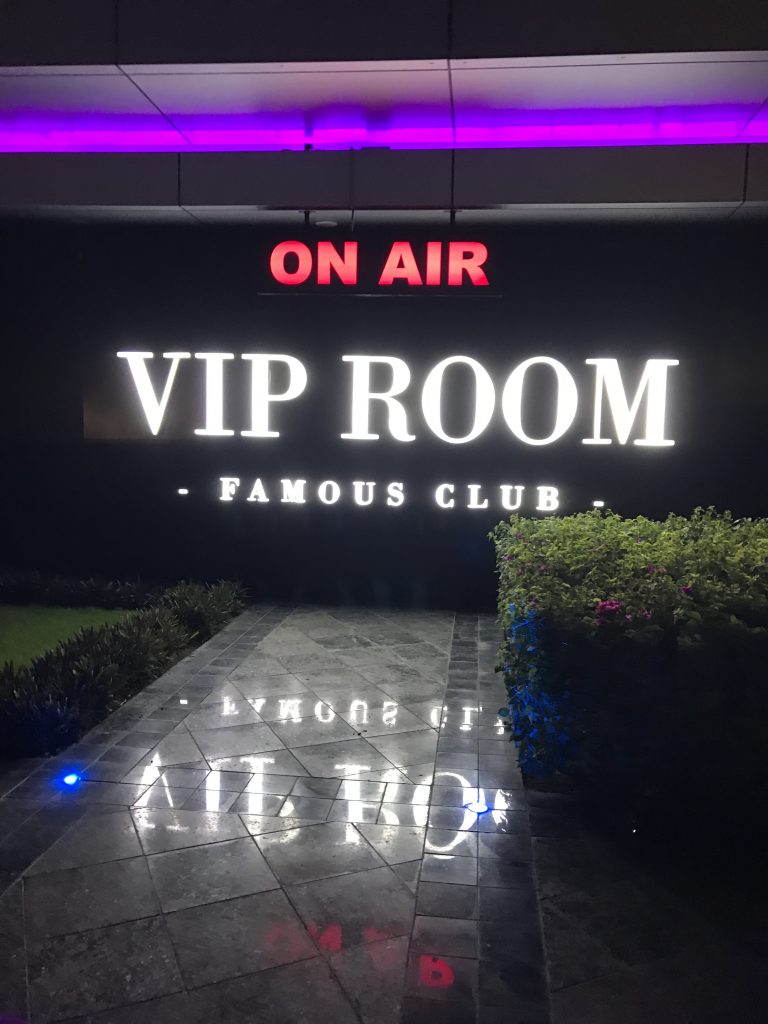 We bought Champagne and Vodka at the airport and drank that before we went out. We had plans every night but went out 3 of the 5 nights in the end. Most restaurants aren't licensed unless they're in a hotel. And cocktails in said restaurants can be pretty pricey, so I definitely think we did the right thing!
Something I did last time with my family that was a must with the girls was a desert safari. There are tons of companies that hound you with deals around hotels, beaches and shopping malls but the best place to get a deal is viator.com it's like the sky scanner of excursions! We booked the desert safari with camp dinner for 75AED each. Our driver picked us up at 4pm and we went out in his 4×4 to the desert its like a 45 minute drive. I used this as valuable sleeping time! They take you to a set up that includes a gift shop and quad biking whilst they let the air out their tyres then take you on a 20 minute ride through the dunes to the desert camp. Stopping on the way to take photos. Obviously.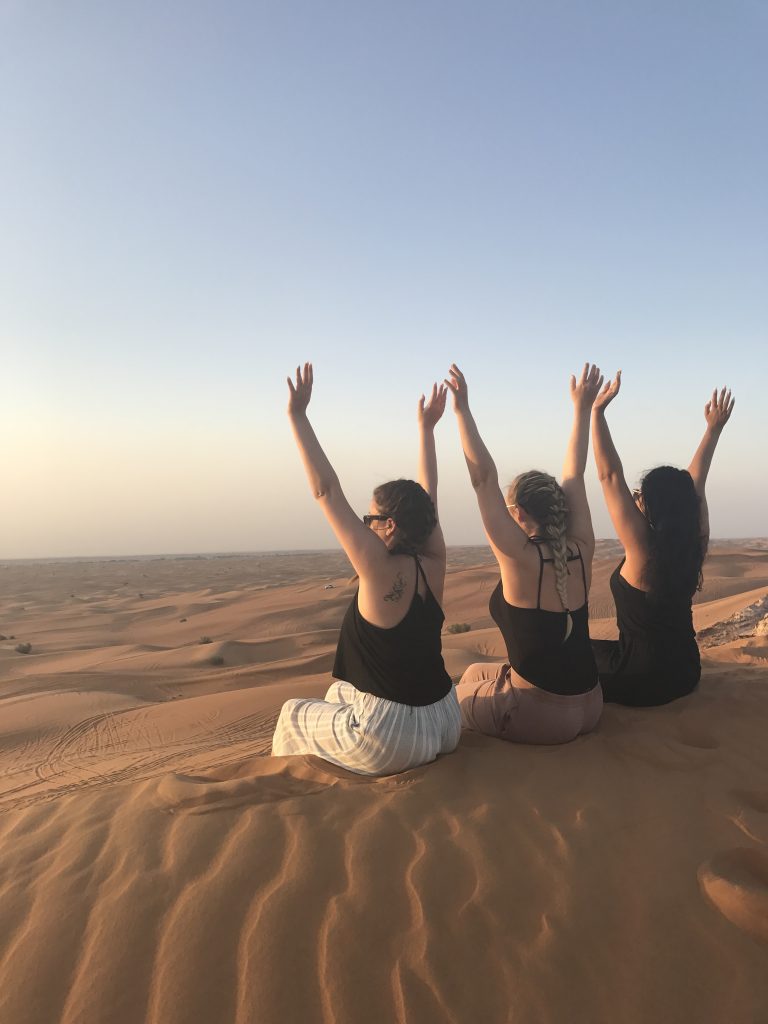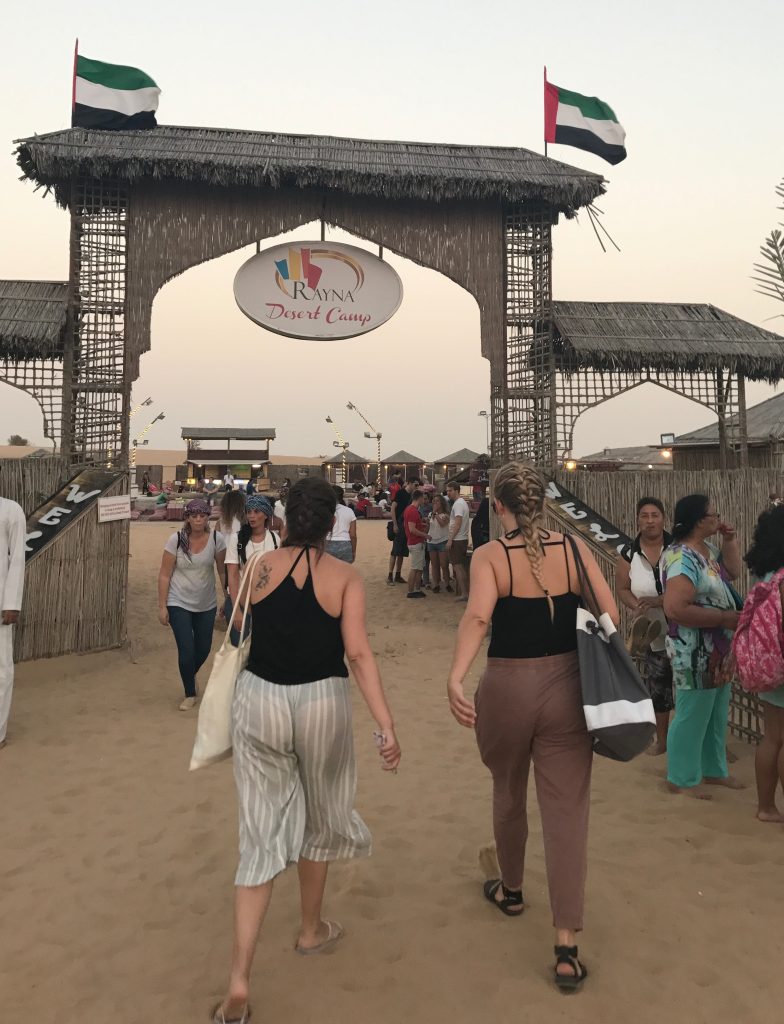 At the desert camp there's camel riding, sand boarding and more quad biking. Inside there was an amazing buffet, shisha and a belly dance show. I'm not really one for cheesy excursions, but this is one I'd do every time I visit Dubai. Our driver was so fun and the whole experience was brilliant. We were dropped back at our apartment before 9 – allowing us plenty of time to get ready and go out.
This is the actual tour we went on with Rayna Tours – note it's advertised for 90AED so definitely check out Viator to see if you can get a better deal!
Shopping in Dubai is mental. The malls are HUGE. My favourite is the Dubai Mall. It has every shop you can possibly think of. I'm talking Bloomingdales, Debenhams, Gucci, Forever 21, Sephora. HELLO – you could literally spend a fortune! The restaurants there are also awesome, most look out over the plaza that houses the Burj Khalifa and the beautiful fountains.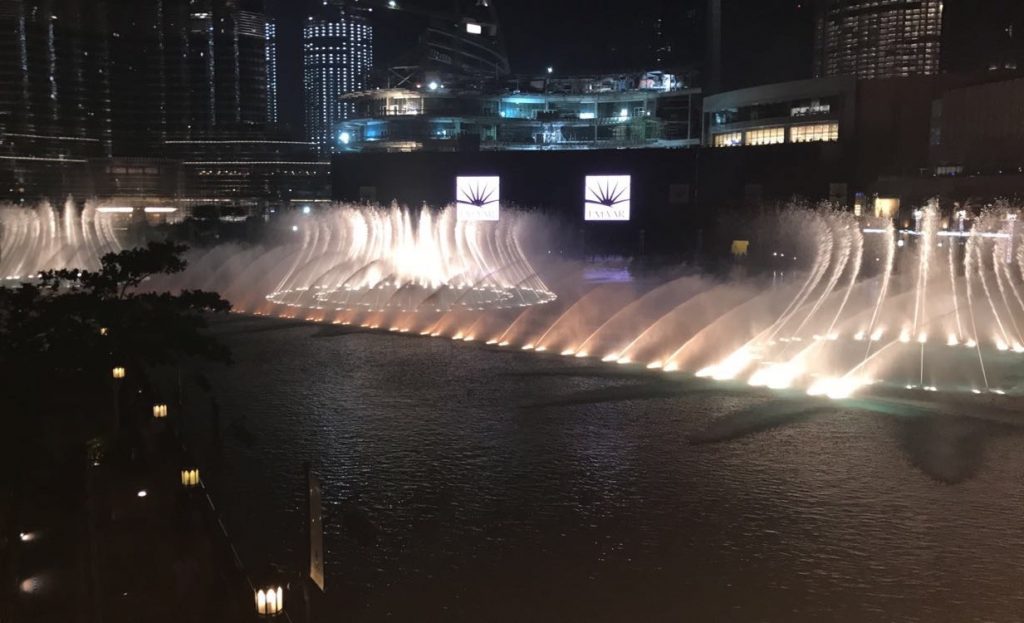 We actually ate at Karma Kafe out on their terrace which had a stunning view of the tower and fountains. It's a beautiful pan asian restaurant that serves delicious sushi.
Since Brexit the exchange rate hasn't been too hot for us brits but that didn't mean I didn't grab the Jaclyn Hill Becca split pan blush/highlight and a Huda Beauty liquid lipstick. Gotta have some holiday treats.
The following night we also went up the Burj Khalifa it's the tallest building in the world and mate the elevator is speedy! We booked online and went up in the evening around 10pm – it was really quiet and such a nice time to see Dubai all lit up and twinkly. That's 125AED each. Well worth it once, but I don't think I'd do it again.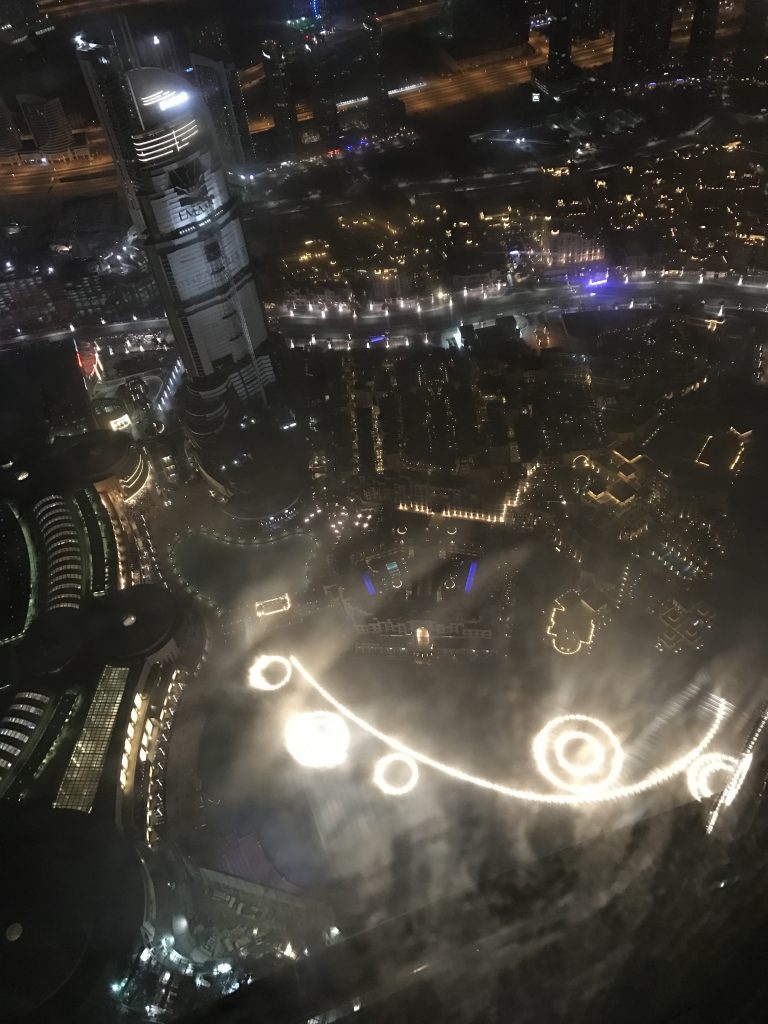 We spent our last day down by the Burj al Arab at Cove Beach. The beach club next too and part of the Jumeriah Beach hotel. It's hands down the nicest beach club I've ever been too. Once again the staff were really nice and attentive. We arrived early as we didn't have a reservation and got beds right at the front. I think it was 200AED for a bed, towel and water.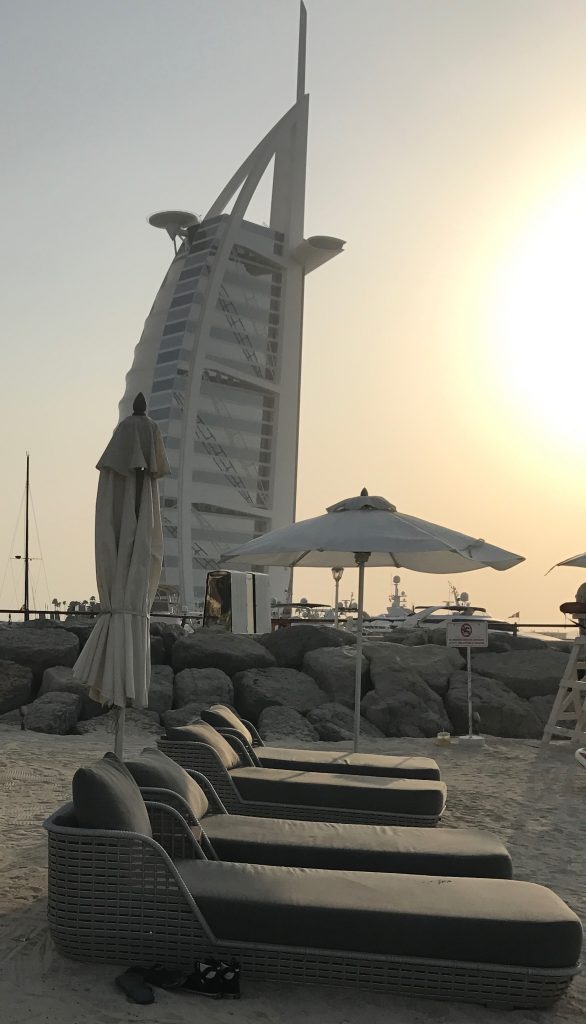 We went on a Monday and it got moderately busy, there was a nice chilled vibe down there. After the past 4 days packed full of activities it was exactly what we needed. The views are stunning too and the beach is much nicer than the one at the Atlantis. If you're stuck for time I'd definitely come here over Nasimi beach.
We did everything we possibly could with 5 days and could easily have stayed another 5. The whole trip cost about £800 including flights and accommodation. It's the same flying time as New York and you can get flights for as little as £270 if you book in advance with British Airways or Emirates.
All our money went of food and taxi's and remember you can't get alcohol in most restaurants so bills between three were quite low and oil in Dubai is super cheap so taxi's were never really more than £4 each when split by 3.
PS if fake designer bags are your thing then get yourself to Karama market – expect to pay in the region of £180-200 for a 'genuine fake'. And like me you don't believe in fakes, just go to see the fun. I'm still in shock this whole underworld of designer bags exists!