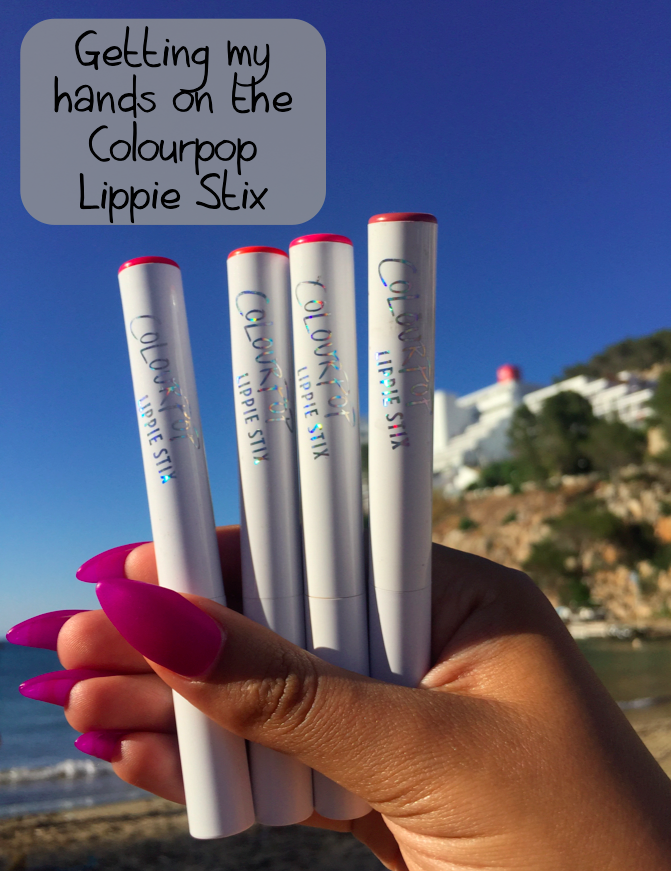 My American bestie introduced me to Colourpop when I visited New York in April. She showed me a couple of their Ultra Matte Liquid Lipsticks in some pretty good matches for Kylie Jenner's first 3 shades. I was impressed with the formula and staying power, then she told me they were only $6! Only catch is they're only sold through their website and I didn't have time to place an order for it to arrive before I was leaving.
So. I came home, trawled online, watched a ton of YouTube videos of girls using Colourpop and decided to do an order anyway. I paid through PayPal and Ariel could either ship it on to me, or as it turned out give me the package in Spain!!
I ordered the Ultra Matte Lips in 'Limbo' and 'Beeper'. They come in the standard liquid lipstick tube, with doe foot applicator. They glide on in one sweep, you don't need any lipliner + they stay on forever. They don't separate, flake or go patchy. Honestly I'm so impressed with the quality of this lipstick it's up there with Kat Von D for me and for only $6 they're incredible value.
The only thing about them that hasn't impressed me is the packaging. I didn't photograph them early enough for you to see the cute metallic brand name. Its rubbed off in my handbag over the past week. So the tube itself is pretty sleek, but the branding could be improved. Now they look like old favourites that have been knocking around forever in my handbag. But hey the product is absolutely incredible so you can't really complain.
True Brown K and Dolce K dupes aside, the bulk of my order were 4 of Colorpop's new Matte X Lippie Stix. I'd seen some of the popular YT gals get sent PR packages of the whole line and was dying to try some of the bright shades for summer.
My order came to about $28 so ended up ordering 'Cami' to knock it over $30 and qualify for the free shipping! Its a nice dusty rose, slightly lighter than 'Beeper' and a little darker than my favourite matte lipsick from Mac, 'Mehr'.
'Topless' is a pastel yellow toned orange. It's like a muted neon. And I loved it in the swatch, but it's one of those mattes that you need to apply to super smooth lips as it bunched up and separated a little in mine on first application. I had to remove it, moisturise my lips, remove any dead skin with a cotton bud then re apply. This shade looks fab with a tan, but fair girls can pull it off too because its not as vivid as a straight up neon orange.
'Barely There' is similar to 'Topless' with its application. Its a warm toned neon coral, which I loved wearing whilst away but it wasn't as comfortable to wear as 'Cami' or 'Poppin'
'Poppin' is a gorgeous bright raspberry. It matched my nails this week. I wore it out in the day in Ibiza and it lasted really well. It went on nice and smoothly without liner, and I topped it up lightly after I ate.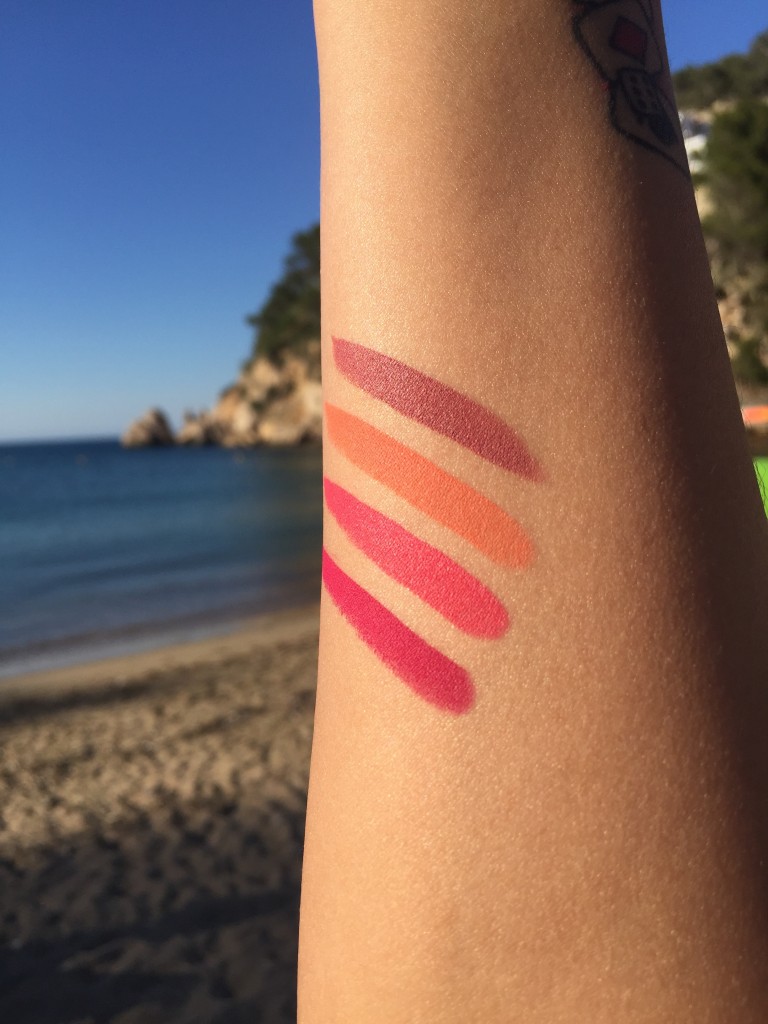 I'd say the whole line of the Matte X Lippie Stix are of really high pigment and super long lasting. I love the white packaging and the fact the product is slanted for easy application, it's just a shame the brighter colours bunched up and separated a little bit.
I'm really impressed I got 6 lip products for $30. I'm just patiently waiting for Colourpop to ship to the UK now! It's such a tease telling your friends about fab products that aren't easy to access here. But as soon as they do I'm sure everyone here will be mad for them.