Liquid lipstick and a super matte lip seem to be trumping the classic glossy look at the moment, which I'm actually in favour of because I can't stand a sticky lipgloss! I like my Buxom 'Full On Lip Creams' and that's that.
Over the past few months I've been trying a ton of matte lip formulas and wanted to share my three favourites. Nude has definitely been the theme with the spring transition: I'm not quite ready for bright matte lips and probably won't be until I reach the Spanish sunshine next month.
I'm going in the order of shade which the picture shows starting with the new launch from Buxom I picked up in New York a couple weeks ago.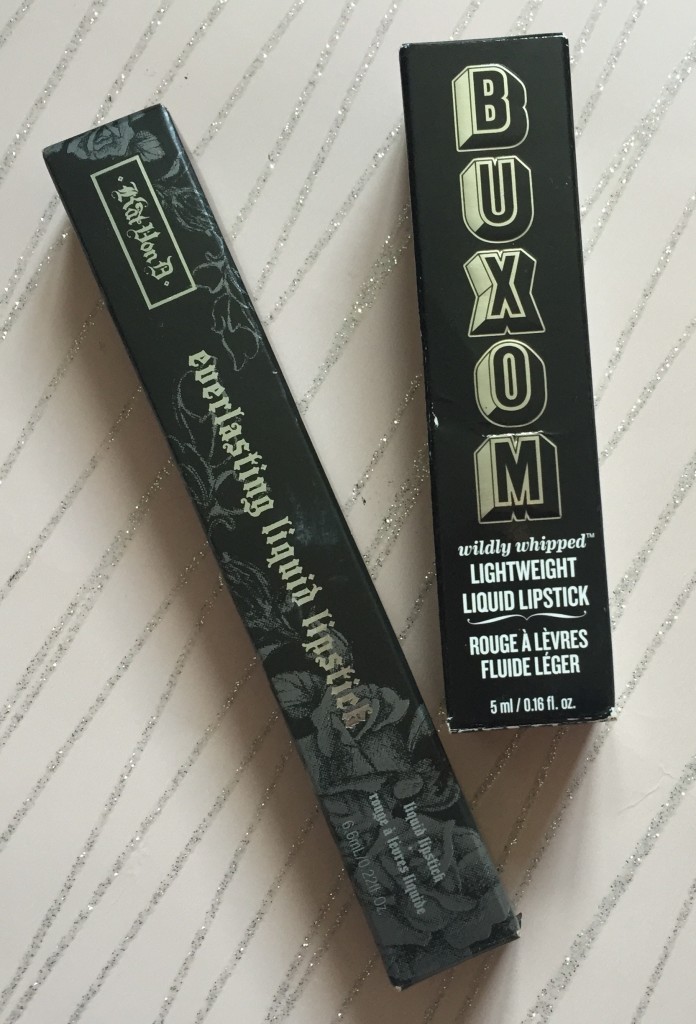 Buxom – Wildly Whipped Lightweight Liquid Lipstick
This guy is BRAND NEW I mean it launched March 20th and I picked it up in NYC mid April!
It's packaged in the same shaped tube as their glosses but slightly shorter and fatter. It's a shiny plastic thats coated in an ombre black sprayed design that fades to clear revealing the shade of the product.
It promises the pigment of a liquid lip and the comfort of a gloss.
I picked the shade 'Devious Dolly' which is a deep mauve-pink (swatched below). I've actually been pairing it with Mac's Soar. The lip cream is slightly darker than soar but the applicator isn't too precise so it's perfect to get a clean outline before applying.
The consistency is smooth, velvety and light. It's a moussey soft matte that contains moisturising properties to keep your lips smooth and hydrated.
On initial application it doesn't dry down super matte so you can play around with it and even it out, it's definitely more of a matte lip cream than a liquid lipstick.
Love the vanilla scent. Does claim to plump. Not a touch on the cream glosses but a nice idea. I don't think there are really enough shades (yet – I think they launched with 12 shades.) 'Centrefold' a nice beigey nude seems to be the most popular shade that's swept the web.
These are $21 available at Sephora.
Kat Von D – Everlasting Liquid Lipstick
All the goodness from a classic matte lipstick in a gloss package. Comes in a slim black box with silver foil writing and rose printed pattern (Pictured above). The tube carries the same rose print on the top in silver. I love it it's so sleek.
The small trim doe foot applicator means you have more precision than a lipstick. The consistency is light and creamy. It's very pigmented and glides on nice and opaque. It dries down in 20-30 seconds, you have time to adjust your application, but once it dries down it doesn't budge – which means no bleeding or feathering too.
The first of this formula I purchased was Lolita, a nice chestnut rose colour, that applies like a medium brown. Pairs beautifully with Mac's Whirl lip liner which they describe as 'dirty rose'.
Applies like a dream and lasts through a meal. Only downside is that it can get quite drying throughout the day – I tend to just apply a slick of my Nivea Essential lip balm and that does the trick
$20 at Sephora.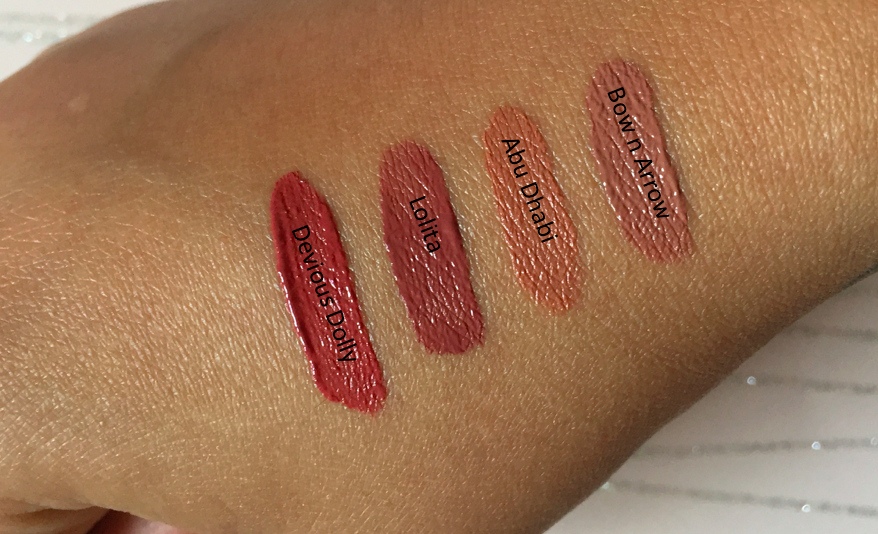 This is my favourite formula of the three. It's moussey like the Buxom and very comfortable to wear. It's staying power isn't as good as the Kat Von D but it's lighter wearing and more affordable. I love the sweet cake smell and it's not too drying.
I have quite a few of the soft matte lip creams from NYX in my collection now but my favourite shade is Abu Dhabi. This one has been in the mix as a dupe for Kylie's Dolce K. I think it's more of a darker, warm + brown nude though.
I absolutely love this formula and it's only £5.50.
I just picked up some NYX bits in Selfridges. I'm loving having NYX and Zoeva in there! (I have heard they're also popping up Boots now too, how good!)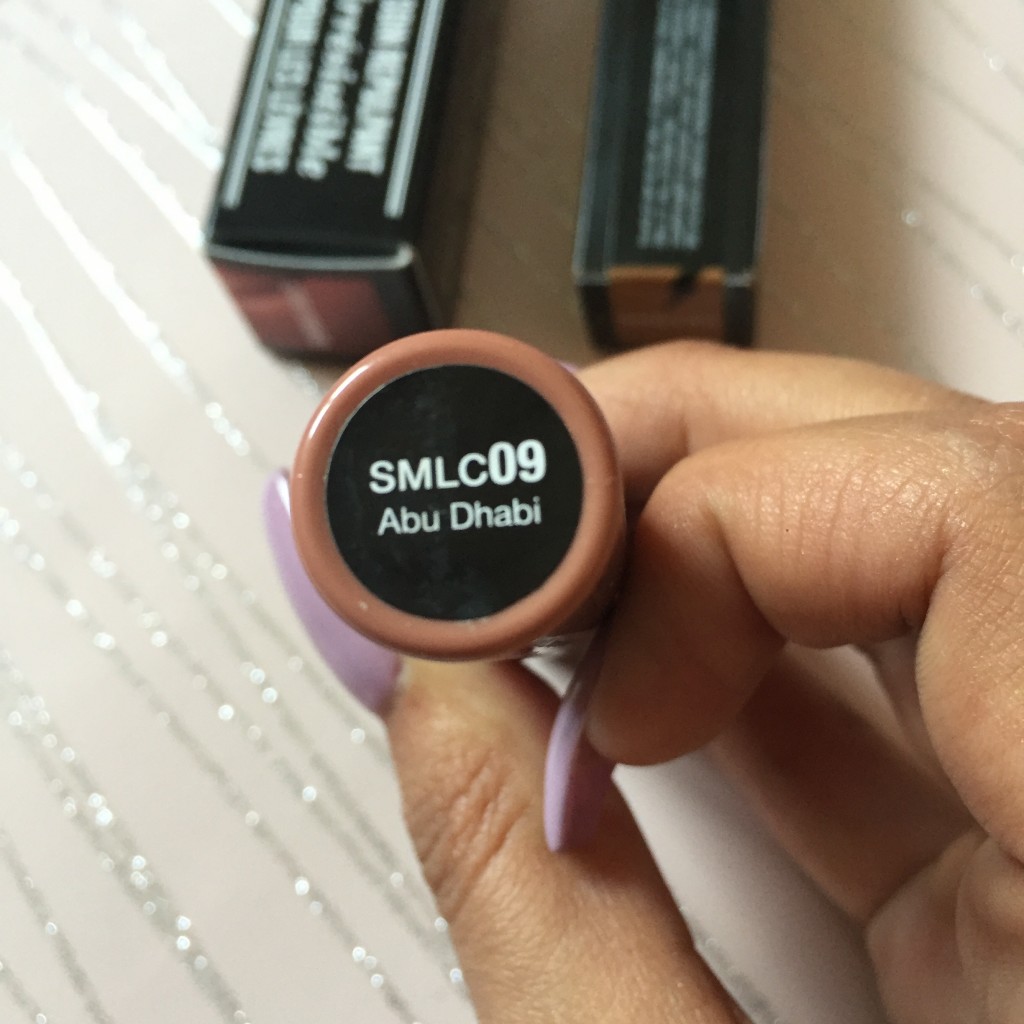 Pairs perfectly with Mac's Stripdown lip liner – it's very stoney wash of beige nude.
Same formula as Lolita. I've been loving this in the day it's a nice subtle colour for work. I've been having shorter days and haven't needed to re apply or touch up even after eating. Also note that even though the formula is quite drying, it doesn't crumble or flake throughout the day. Aaand there's currently 28 shades available…she's always updating the line!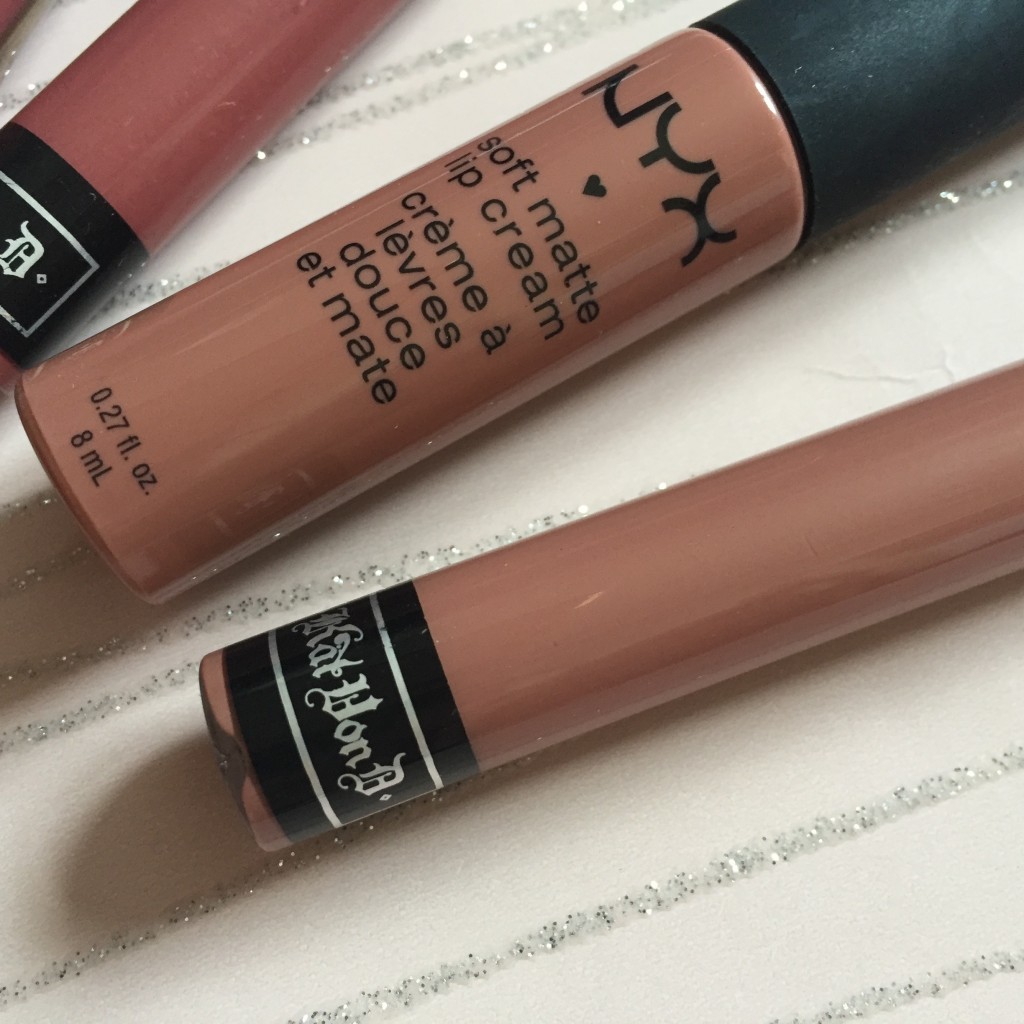 I'm aware the Kat Von D and Buxom aren't available yet in the UK but so many people are jumping on the Sephora website and taking advantage of their international shipping now just make sure you add them to your next order!
Just 1 last pic of my 4 faves all dried down in natural day light. Gorgeous pinky nudes!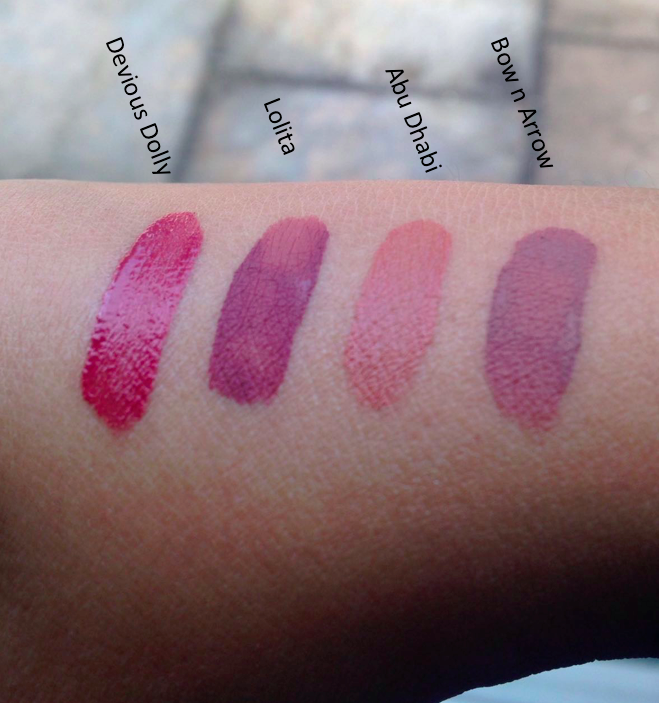 What are your favourite liquid lipsticks? I'm yet to try the Anastasia because I just couldn't justify buying any more on my NYC trip. Let me know in the comments below!