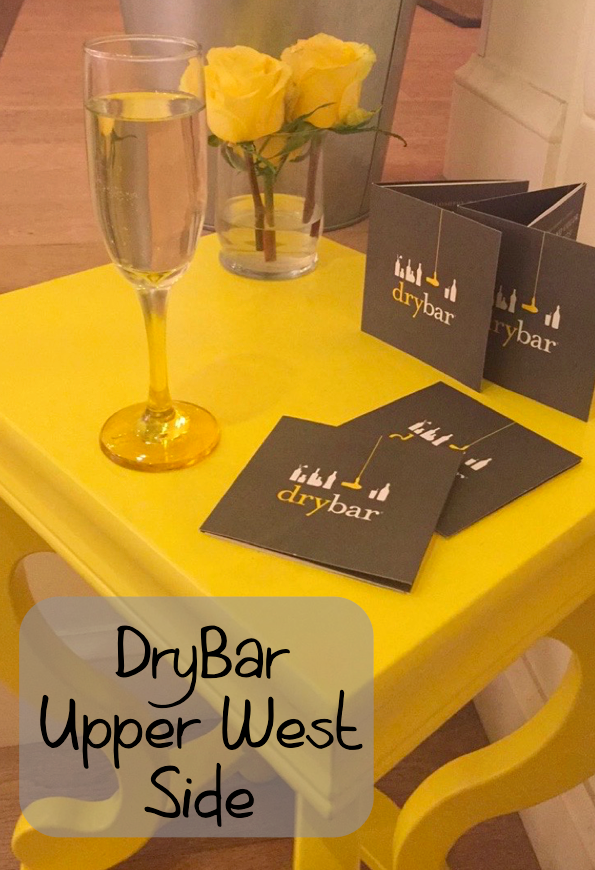 I'm sure I first saw DryBar years & years ago on Real Housewives of New York or something!
I can't believe I lived in New York for 2 years on and off and never went. It literally took for my best friend to have a baby and say right lets remove ourselves from this apartment and treat ourselves to a Blowdry. [Or BlowOUT as they say in America]
We booked the Upper West Side location – which I'm sure is one of the newest. The girls were fab upon arrival even though it was friday night and we were running super late! We were offered a glass of bubbles and then chose our style from the menu at the station.
I went for a loose curl, the girl washed my hair so thoroughly with the nicest smelling products I think I've ever used. Honestly they were delicious. Water was the perfect temperature, and her conversation was fun. Not too intrusive, but I know us British girls are fascinating to the New Yorkers!!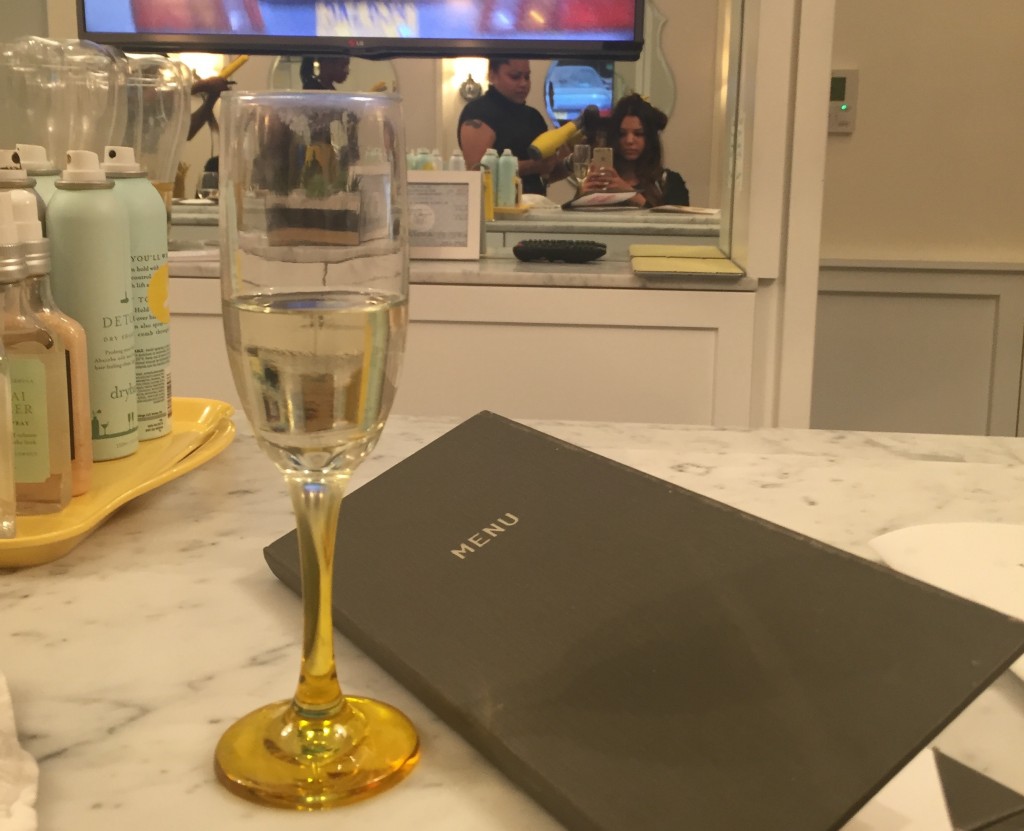 My hair was then rough dried with the dryer whilst Cat and I shouted at each other over the noise. I would definitely go alone, but having a friend on a beside me on a friday evening was so nice, especially because she's always looking after the baby and never gets any time to herself.
Large barrel brushes and clips were used to separate my hair and the poor girl got on her mission to dry the lot. I have so much hair, so this felt like such a treat having someone else so it for me! I tried to pick up as many tips as possible to speed up my drying process at home which was brilliant. The one I found most tricky was drying the hair around the brush and holding it in place. This meant the hair already had some bounce to it before curlers were put anywhere near it. It's just so much easier to do on someone else!!
Less than an hour later my hair was properly dried and curled. The DryBar curlers were super easy to use to as they twist with the hair. I really wanted to buy some but the power sockets in the US are weaker so if I bought them back to the UK they'd just blow.
Bring DryBar to the UK!!
I was a sucker for all of the styling products too, picking up their 'Triple-Sec' spray which is a nice texturising refresher – but again has the most incredible scent! I found myself spritzing the stuff like crazy for the next two days!
I was so impressed my hair lasted the night out and then the two following days. Definitely worth the $45. Especially in the New York humidity and rain!
I'd only go for a treat every now and then or for a special occasion though, otherwise it does start to add up – and the novelty will wear off.
Lovely treat for beautifully styled and smelling hair! I can't wait to go back when I next visit the states. Locations in on the West Coast too!! Find your nearest location here.