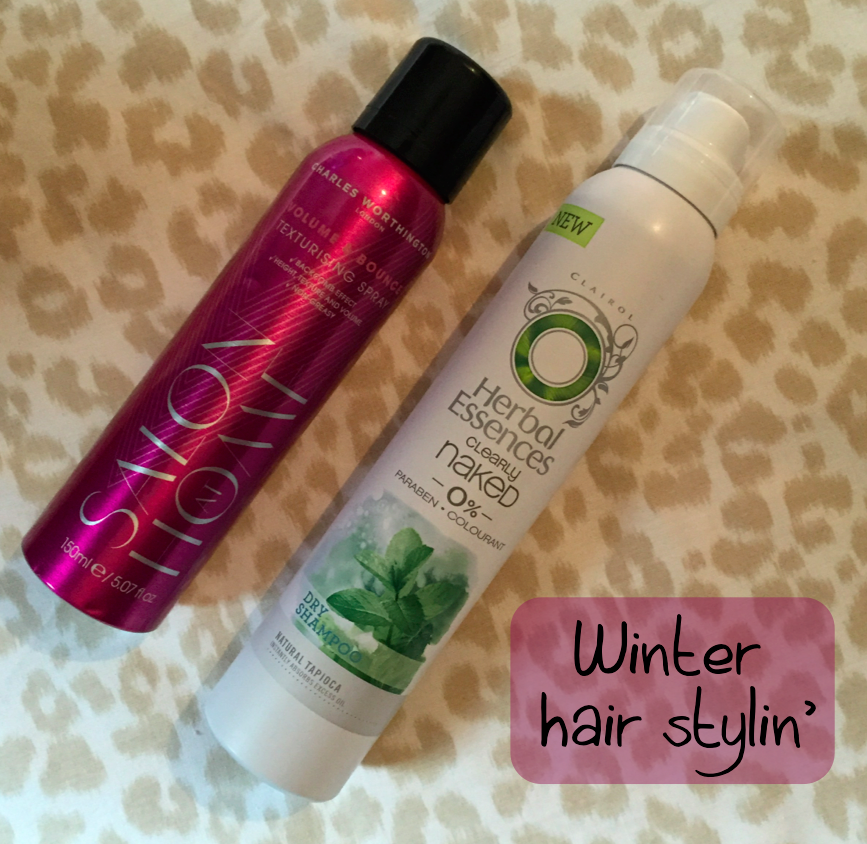 I'm a total skincare/makeup hoarder! So when it comes to hair styling, I really do slack in the product department.
Until recently, I'd just use a little serum on my ends when blowdrying and iron my curls out with my GHD's. But lets face it, thats a big 2006 poker straight right?
So I decided to have a root around youtube for some hair tips and 2 products that really caught my eye were dry shampoo and texturising spray – to add some volume and life to my blowdried locks.
Now I've used the brown tinted Batiste Dry Shampoo for years to prolong the washing and make my hair last a good 3 days down and straight. But I really don't like the smell! (& sometimes find the formula a little chalky)
SO … I saw this Herbal Esscences 'Clearly Naked' can with it's minty fragrance and thought I'd give it a whirl – and now am IN LOVE. It smells delicious and goes on clear. WHAT? Obsessed!!
Make sure you shake it well though. Definitely don't wanna be covered in little white spots of powder when it dries out!
Another product I saw getting plenty of shout outs on youtube was the Oribe Dry Texturising Spray. I wanted something to give my hair a little oomph on the first day but didn't wanna shell out £30 odd for a spray I might not like/will probably get bored of in 2 weeks! So I saw on the Elle website that the Charles Worthington one is a pretty good dupe and snapped that up in Boots on my spree too.
I over sprayed on my first go, and ended up with crispy flakes in my hair. NOT a good look!
But on try two (after another wash!) I finely sprayed my roots and messed around with it for what felt like about 20 hours in the mirror and I was satisfied. I'll grab a knack soon, but I'm proud of myself for venturing out of the flat-ironed-poker-straight look!
You can get both products at Boots here and here – Charles Worthington have a Limited Edition spray out in aid of Awards Season… You're welcome!