We've had a right little heatwave in London these last couple weeks, so I thought I'd share a few of my staple products for keeping fresh in the heat…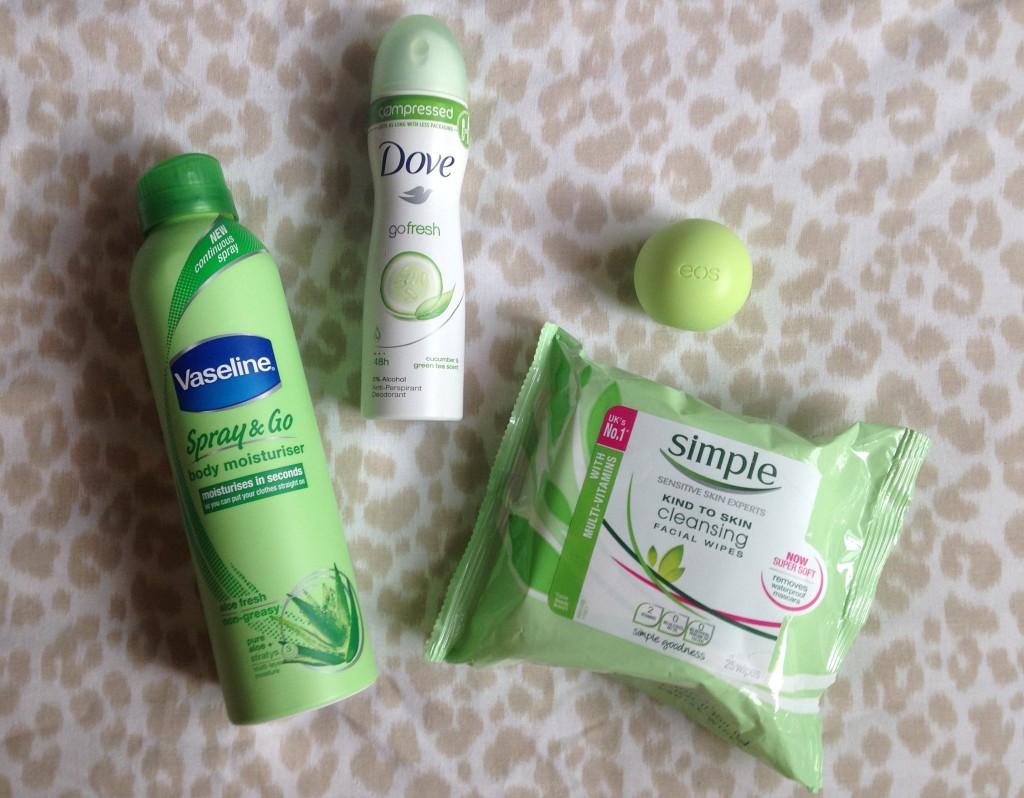 Dove GoFresh Deodorant – Cucumber and Green Tea Scent – I love this deo and have used it forever. The scent is perfect; I can't stand anything too flowery! It's alcohol free, doesn't stain my clothes and it keeps me dry. The reason I'm sharing though, is because they've recently compressed their bottles and you get 150ml in a 75ml can! I keep this mini size in my bag but it's also a perfect holiday size.
Eos Lip Balm – Honeysuckle – These babies were all the rage in NYC during winter. They're 95% organic and 100% natural. As I've said before no matter what, I've always got dry lips and they sure live up to the hype. My saviour in hot or cold weather. I've gone for the honeysuckle flavour as it's in with my green summer fresh theme and nice and subtle on hot days. You can find them on eBay here.
Vaseline Spray & Go Aloe Fresh – My everyday moisturising staple just became easier to apply in the heat! 2 cans down I'm converted. Simple and light application, great coverage and keeps me moisturised all day. Great now the weather's warmer as it can be quite cold as you spray it on, and I know it'll be great for keeping my tan in place after those quick trips to Ibiza!
Simple Cleaning Facial Wipes – I've never been the 'makeup wipe' type, My Mum always taught me to take my make up off with remover and a pad at night, but I've always got a pack of these in my bag, to correct smudges, cool me down or wipe my hands. I might even use them on a lazy evening every now and then…they're definitely great as a pre cleanse to rid the bulk of your day's make up. These are my favourite because they're textured on one side but I wouldn't go as far as saying they're 'exfoliating'!
What are your summer staples for keeping fresh in the heat?