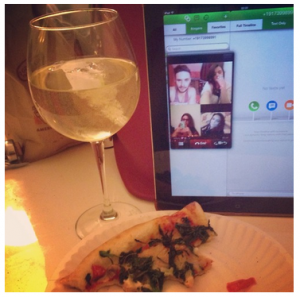 This is how Valentine's looked for me. Pizza, wine and group video chat with the Ibiza Family.
Cat and I went to the cinema on a little single gals date which was fun, and after took our usual antics into the pizza place…
Feb 14, 2014 | Valentines Pizza! #NYC by danicheshire on Keek.com
I can't believe it's already mid Feb!!
Here's some highlights from the end of Jan…including Sunday brunch at Pranna, Open Mic down on the LES and all of that GORGEOUS snow in Central Park!!