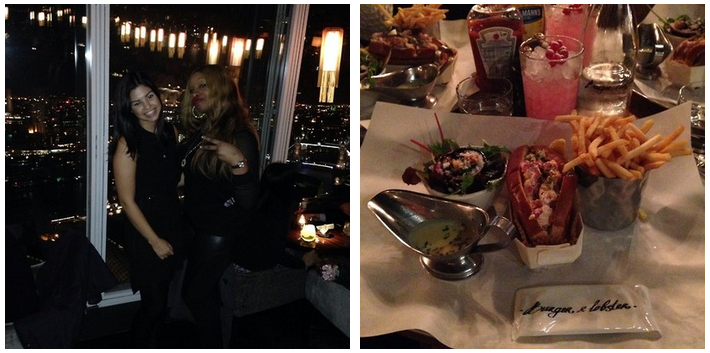 Gearing up to leave London for another couple of months, Jonelle and I wanted to cement our end of Jan Philadelphia plans somewhere classy, sophisticated and 'London'. We decided to meet for drinks at The Shard in the bar on the 31st floor 'Aqua Shard' and then go onto dinner at 'Burger & Lobster'.
The Shard was a great meeting point as it's just 1 escalator down from the platform my train arrives onto at London Bridge – this also makes is a convenient spot for after work drinks or 'that last one' if you've gotta wait for a train.
Upon entering you're directed to a swift express lift that takes you straight to the 31st floor. After entering the low lit entrance and turning right you're guided down a small set of stairs to the most fabulous view of Tower Bridge. The bar area is free seating but waitress service which I felt sucked a little of its sophistication but luckily Jonelle had beaten me there and already snagged a table by the window! We ordered a couple of cosmos and sipped away nattering whilst taking in the view.
Cocktails are priced at £12-14 and service wasn't too sharp, yet included in the bill.
The atmosphere seemed a bit confused, with half of the crowd nipping up for after work drinks and half tourists wanting to dodge the viewing platform fee by substituting with a drink. However I don't know if that was due to it being around 5 o'clock. The view down the Thames is stunning, and I'd recommend one visit to everyone, but definitely wouldn't hurry back.
We went onto dinner at 'Burger & Lobster' on Bread St, by One New Change. They operate a no reservations policy but being a weeknight we only had a short wait.
The menu isn't exactly extensive with the choices being burger, lobster or lobster roll all priced at £20 but I love the concept. This time I opted for the lobster roll, which was creamy and rich, served in a sweet brioche roll, accompanied by a house salad and fries. For a healthy portion I think the food is great value at £20. Yes that's rather steep for a burger, but on the fair and few occasions I do visit, I know I'll always be opting for the lobster choices.
This was the last night in the capital I'd be spending with my leading lady and the Queen of Philly and it was a huge success! Can't wait to see her on 24th in her homeland.